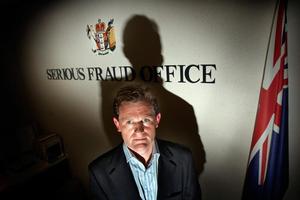 Serious Fraud Office chief Adam Feeley has a much clearer position on its finance company investigations but charges may still be weeks away.
Feeley, who took over the top job in November, told the Herald at the end of January he had set an internal deadline of March 31 to decide if charges would be laid against certain finance company directors.
Yesterday Feeley said he had made progress.
"It was our intention to get to a reasonably firm position by March 31. We have done that."
Feeley said he would be progressively announcing decisions over the next few weeks.
"Whether it is this week or next - the important thing is we are now getting to a position of clarity around finance companies. Whether we announce it today - the date is less important than getting through them."
Asked why the decisions had taken longer than expected, Feeley said the SFO was working with outside parties and had to wait for them to become available in some cases.
The SFO is disestablishing five positions and creating four new management positions.
"That has been a little bit of a distraction which has made it difficult to sit down with the prosecutors."
Feeley has previously warned some cases may involve no charges being laid. There was likely to be a least one company, which he would not name, in this category.
"The evidence we still need to get is overseas and there is no real possibility of getting that within the next year."
Unless there was sufficient public interest in pursuing, it was likely action would not be taken, he said.
Feeley said it was important to resolve the finance company cases as soon as possible.
"If we don't get them resolved we won't be able to turn our attention to other cases. Closing off the finance company cases is critical to the future success of the office."
But Feeley said the SFO also needed to learn lessons from the way it had handled the finance company cases and he had appointed a Queens Counsel to review the investigations.
The SFO is investigating Bridgecorp, Blue Chip, Five Star, Club Finance, Nathans Finance, National Finance, Clegg & Co and last month added Capital + Merchant to its list.
It has yet to charge any finance company directors despite more than 2 years passing since Bridgecorp collapsed, leaving 14,500 investors $459 million out of pocket.