Sale of independent Berkeley chain to Hoyts could speed up the rollout of screens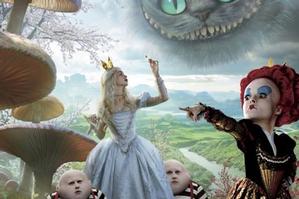 Hollywood movie distributors are hoping Hoyts' purchase of Berkeley Cinemas will hurry up the rollout of 3D.
After the success of Avatar, there has been a big global push to make cinemas 3D-capable and Hoyts has been active in that shift across the Tasman.
But it has been expensive for exhibitors and New Zealand was slow off the mark with 21 3D screens.
"That is understandable," said Andrew Cornwell of Sony Pictures New Zealand.
"Exhibitors here are on very tight margins and there is a cost associated with the change.
"But there is a strong demand for 3D here and after Avatar there are more 3D movies coming - like Alice in Wonderland.
"New Zealand risks being left behind and we are hoping that Hoyts taking over Berkeley will push that along.
"We have been slowly closing the gap with Australia, growing from 13 screens to 21 since Avatar."
Hoyts announced this week it was buying the four Berkeley Cinemas multiplexes, increasing its New Zealand chain to 11 multiplexes and 70 screens.
SkyCity recently sold its cinema interests to Amalgamated Holdings and the New Zealand exhibition sector is virtually wholly overseas-owned.
Amalgamated Holdings is expected to announce soon that it is to use one of its Australian brands to rename SkyCity Cinemas as Event Cinemas.
The third major operator in New Zealand - United States-owned Reading Cinemas, controlled from Australia - has little presence in Auckland apart from its stake in Rialto cinemas.
AUSSIE, AUSSIE, AUSSIE
This week Hoyts chief executive David Kirk was offering words on plans to expand 3D and digital. And he said the expansion in Australia will have no impact on how it obtains screening rights.
But with Australian-based corporates now in control, some will be watching closely to see how Hoyts administers its newly expanded arm.
The question is whether the Aussies will recognise that New Zealand cinema tastes are different to Australia's.
Berkeley Cinemas was owned by Everard Entertainment, which was majority-owned by Barrie Everard.
But a minority interest in Everard is held by Brian Eldridge, who had a role in the day-to-day management of Berkeley, which has led to some expectations Eldridge will have a role in running the chain.
Likewise, AHL has maintained SkyCity's administrative base and general manager Jane Hastings has decided to stay on, which will be encouraging.
Late last year there was concern about the ownership shift overseas.
The film industry is built around an infrastructure of distributors representing Hollywood studios.
Each release is like a joint deal between the distributor and the cinema who share profits.
In the past two years Hoyts has maintained a low profile in New Zealand.
And with the loss of the last locally owned independent chain - Berkeley - there will be concerns the studios may be reluctant to maintain outposts here.
CASHED UP
Barrie Everard is cashed up after selling the four Berkeley Cinemas multiplexes to Hoyts Corporation. Originally from a background in film distribution, he has been largely associated with that sector.
He produced what were New Zealand's few examples of an action thriller - working with Temuera Morrison on Never Say Die.
He has been chairman of the New Zealand Film Commission with the intention that he would give it a rev-up, but his reign was marked by a tense relationship with former commission chief executive Ruth Harley.
Everard was also majority owner of one of Auckland's first FM radio stations, 89FM.
COUGHLAN'S RISE
NZ House & Garden editor Kate Coughlan has been promoted to a significant new role as editorial director of Fairfax Magazines working across 16 titles.
Fairfax says the role supersedes and expands on the position previously held by former Fairfax executive Michal McKay.
Coughlan has been a key player in the magazine sector for a long time, both in the early days of House & Garden and with Fairfax's purchase of INL, which she left to launch NZ Life & Leisure for media independent RM Williams.
The title was included on the Fairfax acquisitions trail and the respected Coughlan wound up back at Fairfax, where she has risen through the ranks.
As well as her wider duties over 16 Fairfax and other contract titles she will continue as editorial director of NZ House & Garden.
Sally Duggan has been appointed editor and her first issue is due out next week.
IDLE THREATS
Broadcasting Minister Jonathan Coleman need not have made idle threats that he could sack members of the Radio New Zealand board. On the present board his appointees will make up the majority by April 30.
Never mind the grand gestures, he could bring change through natural attrition. After chairwoman Christine Grice there are two Labour-appointed governors - Yvonne Sharp and Paul East, the latter a former National Party Cabinet minister who could surely understand National's calls for change.
Garry Monks was appointed by National last year. Two vacancies fall due for possible renewal at the end of next month, those of Steve Murray, who is unofficially there to represent Maori, and Sifa Taumoepeau, who ticks the box for Pacific Islands appointees.
IMPEY FOR RNZ?
Ticking those racial boxes would restrict the Nats' options for a friendly board.
There have been rumours that Coleman might appoint Richard Griffin, a former RNZ political editor and Jim Bolger's press secretary. But I'm told there has been no offer and it would not be accepted.
The other name constantly mentioned - possibly to watch the Save Radio New Zealand campaigners squirm - is Brent Impey. He is a bastion of the private sector who has strong views on the need for change, especially at Concert FM.
He has a lifelong love and experience of commercial radio and has recently stepped down from his role as chief executive of MediaWorks.
Maybe his restraint of trade applies to non-commercial as well as commercial radio.
So we wonder if the people suggesting him are motivated by a wish for change at Radio New Zealand, or schadenfreude towards chairwoman Grice and chief executive Peter Cavanagh, whose lives would suddenly get much more complicated.
MONEY-GO-ROUND
The Government appears to be making fundamental decisions about public broadcasting - including television. While in other countries this would mean a fulsome public debate, in New Zealand it means politicians kicking around ideas with self-interested corporates and Wellington bureaucrats.
At the heart of its decision to address the anomaly of TVNZ's joint commercial and non-commercial aims is the same old question - how would you pay for it?
Broadcasting Minister Jonathan Coleman has indicated he supports a greater role for the digital channel TVNZ7, and maybe TVNZ6.
But taxpayer funding for those channels runs out next year.
Numerous options are doing the rounds, including the idea that TVNZ can ignore non-commercial functions - innocuous as they may be - and put all its energy into profits.
A special Cabinet strategic committee is due to look at long-term policy options next month.
Broadcasting industry sources say one option would see funding diverted from New Zealand On Air and set aside for a non-commercial channel, TVNZ7
One option would see that limited to the $15 million premium fund that was used to finance the TVNZ charter. The fund is presently used for essentially commercial programmes.
Another possibility is for a much bigger amount to be set apart for TVNZ7 in an approach that would eat into funding for commercial programmes on TV One, TV2, TV3, C4 and Prime.
A key issue will be how to keep TVNZ commercial units away from public broadcasting funding. Coleman said the Government was having high-level discussions around the future configuration of public broadcasting services.