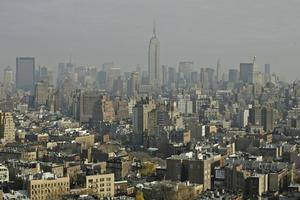 Citigroup will provide US$576 million ($818 million) in loans and cash to help New York City build or renovate more than 20,000 low-income housing units during the next four years, its chief of community development banking said.
The participation of Citigroup, the third-biggest US bank, would enable the city to restructure its Housing Authority, making it eligible for US$66 million in federal stimulus funds and US$55 million in annual operating subsidies, said Andrew Ditton, managing director of the bank's community capital division.
"We want to send a signal to the city where our headquarters is located that we are going to play a much more active role in community development," said Ditton.
"This is a showcase for how we can use our financial resources and brain power to create a complex transaction for the public's benefit." He said Citigroup, 27 per cent owned by the US Government, had been very constrained from making such investments during the past two years.
The plan, announced at a lower Manhattan housing project, is part of a city goal to create and preserve 165,000 units of low- and moderate-income housing by 2014.
The transaction represented the largest single private US investment in public housing, said Ward Marsh of Citigroup in New York. US Housing Secretary Shaun Donovan said the amount of housing made it the most important day for preserving public housing in the nation's history.
New York mayor Michael Bloomberg said: "With the enormous budget challenges facing the city due to the national economic downturn we're constantly looking for creative ways to fill gaps and capitalise on private and federal dollars."
The plan calls for Citigroup to buy US$366 million in tax-exempt bonds issued by the city Housing Development Corp and to spend US$210 million to purchase US$230 million worth of tax credits held by a newly created corporation, the Low Income Housing Tax Credit, which would own 14,465 of the units.
Although the bank would own 99 per cent of the new corporation as a limited partner, the city's Housing Authority would control its policies as general partner.
The arrangement made the bank able to benefit from federal policies that created the tax-credit as an incentive to attract financing for low-cost housing, Ditton said.
- BLOOMBERG