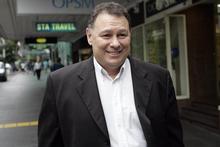 Payments from former Blue Chip boss Mark Bryers show he had control over large amounts of money after his finance empire collapsed - and it could have come from a secret trust he had previously distanced himself from.
The discovery of Bryers' cash reserves come as his estranged wife Shirley Wijma reveals that the couple are about to be legally divorced.
The financial intricacies of Bryers' business and personal life are being slowly dissected by government and legally appointed investigators.
Liquidators, Companies Office investigators and the Serious Fraud Office are probing the remnants of the Blue Chip finance empire, which collapsed owing at least 3000 Kiwi investors about $80m.
The Official Assignee is taking the same approach to Bryers' personal finances in a wide-ranging investigation after his bankruptcy over $173m of debt.
The Herald on Sunday revealed last month that the existence of a trust emerged in questioning over one of Bryers' failed companies. When the liquidators asked who ran and controlled the trust, Bryers said he couldn't remember.
But Maree Aitkenhead, the partner of Bryers' former business partner Bob Bangerter, linked the Sebastian Trust to the former Blue Chip boss.
"He still owes him [Bangerter] about $3m," she said. "He was drip-feeding it for $5000 a month from the Sebastian Trust," she said.
Aitkenhead said the money was paid by Bryers to Bangerter by bank transfer. The bank accounts would show "Sebastian Trust" as the notation on the statements.
The payments stopped at least 18 months ago - Bangerter told the Herald on Sunday at that time that he and Aitkenhead were selling assets to survive.
The trust is believed to be named after Bryers' son Sebastian.
Bryers' wife Shirley Wijma would not answer questions about the Sebastian Trust - and said she did not know what Bryers did with "his trusts".
"He's my ex-husband. We're about to get divorced. We've been apart for two years."
Wijma attacked the media for focusing on Bryers. "For all of Mark's warts he's actually not a bad person."
Official Assignee Les Currie - who is overseeing the bankruptcy investigation - said the inquiry included checking what Bryers had done with his personal wealth and whether it had been transferred to others.
Currie said Bryers had cooperated fully since being bankrupted; any lack of cooperation by an insolvent person could result in the term of bankruptcy being extended beyond the minimum three years. "They have no choice. The courts see the Official Assignee as the public conscience."
By David Fisher @@DFisherJourno

Email

David