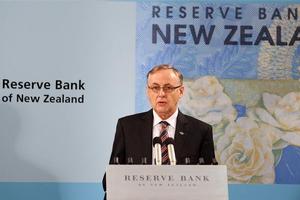 Official interest rates have been left unchanged at a record low 2.5 per cent by the Reserve Bank this morning.
Reserve Bank Governor Alan Bollard has re-confirmed his intention to start "removing policy stimulus" around the middle of this year.
Today's decision to leave rates unchanged was expected by most economists who have now largely discounted any OCR rise until after the Budget on May 20.
In a statement just released, Reserve Bank Governor Alan Bollard said: "The New Zealand economy is recovering broadly as expected and growth is predicted to pick-up further through 2010.
"Trading partner activity has recovered a little faster than expected. Currently, growth is strongest in China, Australia, and emerging Asia, but is much more muted in other trading partners. At the same time, risks around the global outlook have increased, although not to the extreme levels seen at the height of the crisis.
"We estimate the New Zealand economy grew at a stronger pace in the December and March quarters than in the prior two quarters. Looking forward, while growth is expected to increase to about 4 per cent next year, this is subdued relative to previous recoveries.
"Policy stimulus and improved consumer confidence have seen a pick-up in household spending.
That said, households are still cautious with house sales and credit growth remaining subdued. Business spending is weak despite much improved confidence.
"Annual CPI inflation is currently at 2 per cent, and is expected to track within the target range over the medium term. In the short term, implementation of the amended Emissions Trading Scheme and increases in ACC charges will push CPI inflation toward the top of the target range.
"Higher bank funding costs have reduced the level of stimulus that would normally be associated with any given level of the OCR. We expect these costs to persist over the projection reducing the extent of future increases in the OCR. Fiscal consolidation would also help reduce the work that monetary policy might otherwise need to do.
"We continue to expect to begin removing policy stimulus around the middle of 2010."
Philip Borkin, economist at Goldman Sachs JBWere said the Reserve Bank was keeping a level of flexibility around its timing for a hike in interest rates. It was likely to "remove policy support" around the middle of this year - i.e. April to September.
"While our core view remains for a June hike, we continue to believe the risks are skewed to the latter part of this band, although it remains entirely data dependent."
He said it was interesting that the bank commented on higher bank funding costs - which he saw see as a result of new liquidity requirements - and "have reduced the level of stimulus that would normally be associated with any given level of the OCR."
Borkin said he believed the new bank liquidity requirements were playing a role in delivering a tightening in conditions without the Reserve Bank having to act.
"Our core view remains for a 25bp hike (0.25pc) in the OCR in June. However, we still believe the risks are skewed towards a later start if the recent tenor of the data continues to highlight a sluggish recovery. We will be watching house sales, retail spending and credit growth numbers closely."
Robin Clements, senior economist at UBS New Zealand, yesterday said that latest trade data, along with other indicators, was suggesting economic growth would "gather momentum this year."
It could also mean a more aggressive start to raising interest rates - 2 hikes of 50 basis points (0.5pc) - than was widely anticipated, said Clements.

Reserve Bank homepage
See a history of the OCR here
-NZ HERALD