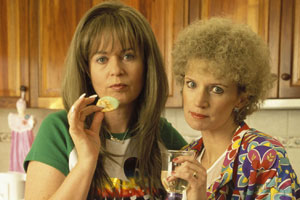 Australian Prime Minister Kevin Rudd loves it. Drinkers from New Zealand have long enjoyed it. And now it's the leading white wine sold across the Ditch.
In a phenomenon dubbed "the savalanche", sauvignon blanc has conquered the Australian market and almost single-handedly delivered a boom to New Zealand.
Market researcher Nielsen says New Zealand wine sales in Australia were up 42.3 per cent in the most recent financial year.
And Kiwi wine exports hit the $1 billion mark for the first time last year.
Sauvignon blanc has a 30 per cent slice of white-wine sales in Australia, breaking chardonnay's stranglehold.
The crisp and fruity white has also made Australia the top wine export market for New Zealand.
But as New Zealand wine writer Michael Cooper explains, there are many reasons for Australia's unaccustomed import surge from next door.
"Kiwis drink heaps of Australian wine so why shouldn't Australians drink heaps of Kiwi wine? I mean, trade works both ways."
Cooper says a cool-climate grape like sauvignon blanc, particularly from the Marlborough region, makes a wine perfectly tailored for the Aussie heat.
"If you were to choose a wine style that would suit the hot Australian climate, surely you would go for something that is fresh, crisp, lively, aromatic, suited to outdoor dining - Marlborough sauvignon is all those things. In the same way, Australia's robust reds suit the New Zealand winter."
Cooper sees parallels between sauvignon blanc's current success and chardonnay's long-running popularity.
"[Sauvignon blanc is] a good wine for beginners because it leaps out of the glass with a forcefulness which is easy to recognise.
"For people who are new to wine and may not recognise the subtlety of other varieties, sauvignon blanc is an easy way into learning about grape varieties.
"I think also its fruitiness and its crispness seem to suit modern cuisine, and it appeals to women."
Sauvignon blanc was inexpensive and good value for money.
It is also a grape that Cooper believes does well in few countries, apart from its spiritual home - France's Loire Valley.
"I think it's the only varietal which you could fairly argue that New Zealand has its nose in front of the rest of the world."
- AAP