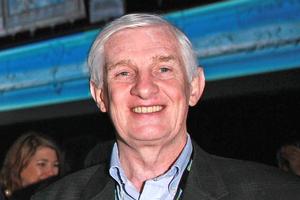 Frank Mount at the launch of Telecom's XT Network. Photo / Herald on Sunday
A rousing missive from Telecom's outgoing chief transformation officer failed to mention the company's problem-plagued XT network.
Frank Mount resigned last Tuesday as the company's new mobile network suffered its fourth outage since December. His fixed-term contract was due to end in June.
In the email, sent anonymously to the Herald, Mount does not acknowledge the XT outages, telling his "dear friends" that Telecom "is one of the best run telcos anywhere in the world".
See the full text of the email here
"The crises Telecom faces come from external pressures, not from the networks," Mount said.
"Attacking Telecom is attacking your great work. If it were fairly placed so be it. I don't think it is and I urge you to support your Executive, his top team, and his middle team - the whole team - as the ship turns from rough seas to safe harbour."
In the email Mount writes of the "heroic efforts" of "telephone people" at Telecom completing its legally enforced undertaking goals - part of the company's operational separation agreement with the Government.
"Leadership has found its way to the centre. Leaders at every level of the rank and file are stepping up to be held accountable. After all is said and done - when all of the noise subsides and it's quiet enough to be calm and truly open and honest - it's your company," he writes.
As well as asking staff to ignore negative press reports, Mount encouraged Telecom staff on the company's stated mission of becoming New Zealand's "most preferred" company.
"You see the slips, trips and falls we make as humans and it is you - all of you - that catch them every day and recover so well.
"Advanced telecommunications is difficult and customer demands are proportionate to customer service. The more attention one pays to customers the more they demand."
Mount said that after a few weeks at home in the United States he would return to New Zealand as a tourist.
Mount's role has been split, with chief information officer David Havercroft taking responsibility for network operations and Russ Houlden, the company's chief financial officer, taking interim responsibility for back office technology operations.
Telecom's main rival Vodafone said it had flown extra staff to the South Island to deal with the increase in inquiries following the XT failures.
Vodafone yesterday announced it had signed freight forwarding company Mondiale to a landline and mobile deal covering 250 staff.
Vodafone spokesman Paul Brislen said the company was signing customers who had been wavering between it and Telecom and was seeing interest from South Island consumers concerned about the 2012 switch-off date for Telecom's old CDMA network.
Yesterday, Telecom shares fell as low as $2.19 before closing at $2.21.
Shares dropped 14c earlier in the week, mainly as the result of the payment of a 6c dividend.
Forsyth Barr analyst Guy Hallwright said the share price was reflecting not only the current mobile network issues but also the uncertainty around Telecom's role in the Government-backed, ultra-fast fibre network.
The Government has received 33 proposals from 18 companies to run out fibre networks to the doorsteps of urban New Zealand.
Telecom and Canadian fibre network specialist Axia NetMedia have both tabled plans to build a nationwide fibre network.
Telecom submitted two plans - a proposal which matches the requirements of the Government but would see it cede control of the fibre assets, and one which builds on the company's fibre-to-the-node programme.
The Government had indicated it would look at alternative approaches as long as the companies involved also lodged a plan which complied with Government requirements.
In Australia, Telecom's equivalent Telstra has hit historic lows as it negotiates with the Australian Government over the sale of its fixed-line assets into a nationwide high-speed broadband network.