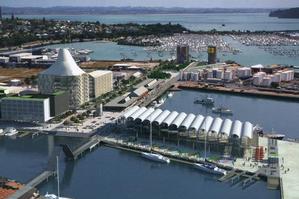 Analysts and bank staff have mixed views on ASB's announcement that it is leaving the CBD for Auckland's Tank Farm.
In 2013, 1100 bank staff will leave Multiplex New Zealand Property Fund's Albert St tower and head for the west and the water where Kiwi Income Property Trust will build its new headquarters.
Analysts and professional fund managers were this week crunching the numbers and worrying about what sort of deal this was for institutional investors.
"There is a lot of detail missing from the announcement," said one adding that although the tenant is solid and will pay the rent, and the move extends Kiwi's weighted average lease term, the yield from the development appeared slim.
In rejecting the CBD for the waterfront, the trust might also threaten the city's heart, he thought. That could mean jeopardising the location where Kiwi has its single most valuable asset, the $277 million 39,490sq m Vero Centre on Shortland St.
One senior ASB executive expressed dismay at the choice of location. "Not sure about a move to the Tank Farm area. Would've preferred where ANZ's going," he said, referring to Customs St East where another developer is planning to steal that bank from AMP NZ Office Trust.
"We need a rapid rail or a humongous travellator," said the ASB executive in pondering his new location.
Other staff like the new location and are keen to leave the tower which they complained had slow lifts and was difficult to work in.
ING (NZ) owns 11 per cent of Kiwi and its investment chief Craig Tyson had several concerns about the ASB tower.
"Clearly the deal has some merit for improving Kiwi's portfolio metrics: a lease term of at least 18 years to a blue chip tenant and fixed annual rent reviews of 2.5 per cent," Tyson said.
"However, on the face of it the deal is not accretive on a cash-flow basis," he said, calculating that the manager is using money which cost at least 9.75 per cent to raise but would return far less to investors."
He also had doubts about the value of Kiwi developing the new tower on land it does not own.
"The leasehold deal seems attractively priced ... but of course the real issue with leasehold land is it is eventually worthless whereas freehold land retains it real value over the long term which is why we prefer freehold land.
"A bit of a mixed bag really. Clearly the manager will have generated a significant amount of goodwill with local government by being the first to sign up for Wynyard Quarter redevelopment so presumably the real value of this deal is yet to be fully realised," Tyson speculated.
ASB is the first big corporate tenant to show an appetite for the Tank Farm and Friday's function to announce it was a chance for political factions to voice their success and guests included Prime Minister John Key, Auckland Regional Council chief Mike Lee and Auckland mayor John Banks.
Charles Pink, ASB's chief executive, said the maritime atmosphere would make the area an exciting place to work from.
Pink said the bank and Kiwi were jointly investing $160 million in the building which would be highly eco-friendly with energy-efficient lighting systems and air conditioning, rain water recycling, passive building features to cut heating and cooling demands and eco-friendly construction materials.
Since opening in 1847, the bank has had seven offices but the Wynyard Quarter HQ would be the best, he predicted.
Chris Gudgeon, chief executive of the trust's manager, said it was spending $121 million on the new building which included $16.5 million ground rent pre-payment and a holding cost allowance of $11.1 million calculated on a conventional interest cost capitalisation approach.
The $160 million figure is the project cost plus ASB's cost of their hard and soft fitout.
Gudgeon said the new tower's development was conditional on several factors, including zoning being secured to allow the resource consent to be granted. He expects ASB to move to the 6800sq m site by July 2013.
Bligh Voller Nield of Sydney designed the block and also worked on other award-winning ASB properties including Sovereign House at Takapuna and C:Drive at Albany.
John Dalzell, Sea+City's chief executive and project director, said ASB's presence was an important first step in revitalising the area. Parks, plazas, apartments, shops and offices are planned, alongside existing marine and fishing industries, he said.
About 14,000 people will eventually work in the area and 7000 people will live there, Dalzell said.
WYNYARD-BOUND
* New 52m-tall, $160m ASB building near waterfront.
* Volcanic-cone top for aircon.
* Building contract not yet let.
* Bank block to be 18,000sq m.
* Construction to start next year.
* On Jellicoe St/Halsey St corner.
* Part of a 29ha Tank Farm revamp.