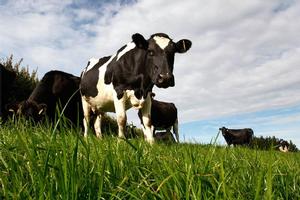 A new welfare code for dairy cattle has been criticised by Federated Farmers for "confusing legal requirements with best recommended practices".
Federated Farmers Dairy vice chairperson John Bluett says he is worried the new code could mean farmers are punished if the way they farm does not meet the recommendations.
The latest Animal Welfare (Dairy Cattle) Code of Welfare 2010 released last week consolidates a range of already existing documents.
"It'll be fine if it's used as a training guide for stockmanship, then it would help, " said Bluett.
The code comes under the Animal Welfare Act 1999 and deals with the husbandry of cattle on dairy farms. The code covers fundamental obligations around feeding, housing, handling, and healthcare.
Bluett says the recommendations are comprehensive, but proposes the document be split into two parts; one which has the legal regulations and the other to outline recommendations.
Bluett says Federated Farmers had been working with DairyNZ to bring up the minimum standards of stockmanship. In a statement issued last week Bluett said welfare standards translated to productivity and subsequently profitability of individual farms.
"It's what we're judged on and is fundamental to sustaining consumer trust. Stockmanship is something dairy farmers need to develop in themselves and any staff who interact with farm animals."
Federated Farmers have been criticised by the Green Party for supporting three farms applications to house cows in cubicles in the South Island's Mackenzie Basin. The subject is yet to be concluded by cabinet.
Save Animals From Experiments (SAFE) campaign director Hans Kriek says the code at this stage does not prevent animals from the factory-style farming.
"The way it's written now you can keep animals inside for as long as you like but cows should be able to express normal behaviour[according to the Animal Welfare Act 1999]."
Kriek says that having two separate documents would bypass the purpose of protecting cattle.
"It's not up to National Animal Welfare Advisory Committee (NAWAC) or the government to write how to farm. It's up to them [farmers] to sort it out themselves."
Bluett says the introduction of the new code will become evident depending on whether farmers face complaints to MAF.
"Time will tell the interpretation of it."