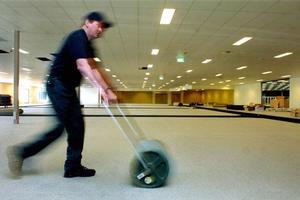 Cavalier, the only listed carpet maker on the NZX after Feltex's demise, said it sees a gradual improvement in sales, prompting the company to lift its guidance for full-year earnings.
Net income fell 6 per cent to $7 million, or 10.4 cents a share, in the six months ended Dec. 31, from $7.4 million, or 11.1 cents a year earlier, the company said in a statement today. Forsyth Barr had expected a 23 per cent decline to $5.7 million.
Cavalier has emerged from what it calls "the worst turnaround in trading ever experienced" in its carpet business as a result of the global economic slowdown. Today it said the carpets had "coped remarkably well" by cutting costs to cushion the impact of weaker revenue.
Its wool business was restructured after acquiring a rival's processing arm and eliminating 77 per cent of the industry's excess capacity.
"Indications are that the adverse market conditions for our carpet business have bottomed out and we are cautiously optimistic that we will see a gradual lifting of revenue here," the company said.
"At the same time, our wool business is about to enter into the busy part of the season, and the volumes of wool coming onto the market and being sold are so far holding up well," it said.
Full-year profit may be in a range of $14.5 million to $15.5 million, up from its previous guidance of $13.5 million to $15.5 million.
Cavalier's stake in Cavalier Wool Holdings shrank to 50 per cent from 92.5 per cent though it still earned $1.4 million in the first half, well ahead of the year-earlier period. Its Elco Direct wool buying unit turned to a profit at the EBIT level of $270,000, on sales of $12 million, from a year earlier loss of $109,000 on revenue of $11.1 million.
The company pays three dividends a year and today announced a second interim payment of 4 cents a share, unchanged from a year earlier.
Net debt stood at $57.3 million as at Dec. 31, for a debt-to-equity ratio of 39.6. That's down from $92.9 million and 53 a year earlier, it said.
The shares rose about 2 per cent to $2.58 on Friday.