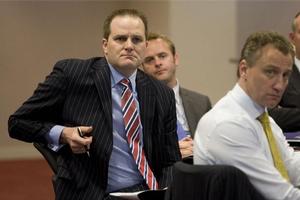 Government has released its response to a recent taskforce looking at New Zealand's capital markets, saying it wants to 'rebuild mum and dad investor trust'.
One of the major steps it says it is now considering is the merging of different regulatory functions of the NZ stock exchange, Companies Office and the Securities Commission to form a single market regulator.
In December, the Capital Market Development Taskforce made 60 recommendations as part of a blueprint for the development of capital markets.
Commerce Minister Simon Power said the Government shared the taskforce's view that capital markets were key to improving the financial wellbeing of all New Zealanders and a vital source of finance for business.
"We want everyday investors to feel more confident about putting their savings into capital markets, through understanding the basics of investment, getting advice they can trust, and making informed choices.
"We need to build opportunities for people to invest and to invest safely.
Some of the recommendations Power says the Government is committed to implementing are:
• Introducing 'plain English' into investment statements and prospectuses, with warnings on risky or complex products.
• A more co-ordinated approach to the Government's role in improving the financial literacy of New Zealanders.
• Ensuring the duties of fund managers and supervisors are clear and enforced.
• Considering consolidating parts of the Companies Office, Securities Commission, and the NZX Disciplinary Tribunal into a new market conduct regulator.
• Making it easier and cheaper for companies to raise capital privately by clarifying and broadening the exemptions to the Securities Act and Takeovers Act.
• Improving risk management in the economy by supporting the development of derivatives markets in commodities and energy.
Milford Asset Management executive director Brian Gaynor says the government's action plan indicates progress in the area of capital investment but he would like to see more commitment. Gaynor says the action plan is largely aspirational.
"It's not as if they've said they're going to do it and how."
"One of the recommendations I thought would have been good was having a central place where people could go to look up the investment portfolios. But this was supported in principle only.
He says offshore investors will need more encouragement to invest in New Zealand, saying that tax rates in Singapore and Dublin are currently preferable.
"There's a reality that people aren't going to invest in New Zealand unless they get tax benefits. They're not going to come to New Zealand if the tax rate is much higher than where they investing at the moment.
He says the CMD taskforce's recommendations will be largely ignored if there is no policy implemented to police transactions between investors and companies. Gaynor has previously commented that the Securities Commission is ineffective.
"We have a situation where there is an ambulance at the bottom of the cliff and no fence at the top. I would agree that investment statements do have to be in plain English so who is going to make sure the English is plain? There really isn't anyone enforcing it."
Taskforce chair Rob Cameron said he welcomed today's Government response to its report.
"We believe our recommendations will significantly improve the contribution that capital markets make to New Zealand's economic growth and New Zealanders' wellbeing." he said.
"We hope the timeframes the Government has set for completing its deliberations and implementing the recommendations are met, or improved upon. In our view improving the way our capital markets operate and pursuing opportunities to develop New Zealand as a provider of services in global markets is an urgent task."

NZ HERALD STAFF