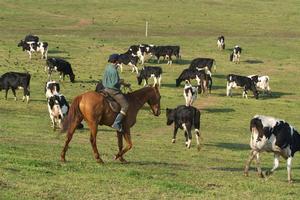 NZ Farming Systems Uruguay has reported improved results on the back of better rainfall, growth in its farms, cost cutting and better milk prices.
The company announced its half year results to December 31 today, saying its operating loss before fair value adjustments and other one-off items was US$2.5 ($3.4) million, compared to a US$5.1m loss for the previous comparable period.
The company, which uses its New Zealand dairying expertise on farms in the South American country, said half-year earnings reflect growth and improved operating conditions.
Consistent rainfall patterns in the first quarter were followed by good rains throughout the second and into the early summer. This allowed pastures to recover from the prolonged and debilitating drought over the previous summer and autumn.
The six month period saw a 42 per cent increase in revenue to US$10.9 million and a 50 per cent reduction in operating loss, to US$2.5 million.
Milk prices recovered to US 29c per litre at the farmgate in December 2009.
There was a 70 per cent increase in milk production, to 42.1 million litres and a 15 per cent reduction in farm operating costs, despite increased production.
Chairman John Parker said the company had established good momentum after the difficulties experienced in the previous year.
The company's shares dropped NZ2 cents today to NZ40c.
- NZPA