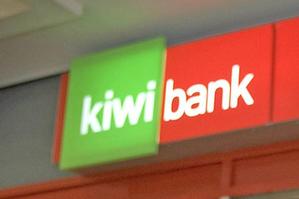 State-owned Kiwibank has cut its variable mortgage rate by 14 basis points (bps) to 5.65 per cent, making it the second lowest bank variable rate behind BNZ's headline Total Money rate of 5.59 per cent.
At the same time, Kiwibank hiked its 18 month mortgage rate by 10 bps to 6.49 per cent.
While fixed mortgage rates have been rising in recent weeks, variable rates have remained stationary at the low end of the mortgage rate curve. Kiwibank is the first bank to change its variable rate this year.
Variable rates are likely to remain at their lows until the Reserve Bank of New Zealand (RBNZ) decides to start increasing the Official Cash Rate (OCR) off its record low of 2.5 per cent later this year.
Reserve Bank governor Alan Bollard said on TVNZ's Sunday Q&A that the bank was sticking with its expectation that it would raise the OCR around the middle of the year.
Many home owners are now opting for variable mortgage rates rather than fixed rates, which is a shift from what was seen in the New Zealand mortgage market during the housing boom from 2002 to 2007.
Back in late 2007 almost 90 per cent of home owners had fixed rate mortgages because for the previous 8 years the rates had typically been lower than variable rates.
This contrasts with the situation in Australia where more than 90 per cent of home owners use variable rather than fixed rates because variable rates are typically lower there.
But that has all changed in New Zealand in the last 18 months as the global financial crisis and moves by both central banks and global regulators have forced banks to raise more money locally and for longer terms, meaning their fixed mortgage rates have risen relative to variable rates.
The average 2 year bank mortgage rate has risen from 5.9 per cent last February to 7.2 per cent now, while the variable rate has fallen from 6.7 per cent to 6 per cent.
This has reversed a pecking order in place for nearly a decade. The proportion of homeowners who have variable rate mortgages has more than doubled to 26 per cent in the last 18 months.
The decision about going fixed versus variable depends on a variety of factors. If a borrower believes the Official Cash Rate set by the Reserve Bank is about to go up fast and soon then it may make sense to fix, but if the OCR is expected to stay steady for an extended period then a variable rate makes sense.
Currently economists expect the OCR to remain on hold until early June or late July, before rising to around 4.25 per cent in a year's time.
Anyone who goes variable is also making a decision about whether the market will go back to 'normal'. That would depend on international markets settling down again and central bankers easing off on restrictions on capital or liquidtiy.