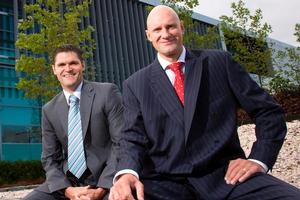 In conjuction with a senior reshuffle, Colliers International is beefing up the responsibilities of its Highbrook office in South Auckland by adding a full service property management business unit on the back of Livingstones, an "independent" national property management business, which it already owns.
Greg Goldfinch was recently promoted to Highbrook general manager to oversee Colliers' South Auckland industrial and commercial business taking over from Charles Cooper, who now has responsibility for the agency's nationwide industrial business.
Since establishing the Highbrook office in 2008, Colliers has worked to build a full service operation in the South Auckland area, supported by a valuations business with five specialist industrial valuers led by Mark Parlane, director of valuation and consultancy.
The Highbrook office has also set up a team to focus on what Colliers calls its South Auckland "metro" business, described as commercial property that is not residential or industrial within an area from Penrose to Pukekohe.
Goldfinch will now drive all of these units.
Reporting to Cooper, Goldfinch will spend the majority of his time on his brokerage activities alongside the added responsibilities of leading the new business.
"I am an industrial broker and that will continue to occupy the vast majority of my time and will remain my main focus," he says. "However, I will now take on the job to bring together the different strands of the business to ensure we deliver a seamless full service offering to our clients."
Cooper says Goldfinch is ideally suited to take on the role.
"He's a South Auckland lad, brought up in Papakura and he knows the market incredibly well."
After a stint in the New Zealand police force, followed by five years of overseas travel spent mainly in London, Goldfinch joined Colliers in 2004, rising to become one of the company's top brokers.
Goldfinch says last year was second best only to the 2007 year, in the 19 years the Colliers' South Auckland industrial team has been operating. "Our Highbrook office has grown rapidly in just two years and now has a team of 25 people.
"However, this success coincides with some fiercely challenging market conditions that require us to be even smarter about how we do things in order to get to the next level."
Last year, Colliers' industrial team transacted in excess of $300 million worth of industrial property working with national brand name organisations like Fisher & Paykel Appliances, Mercedes Benz, Steel & Tube, NZ Post, Caroma Industries, Hynds Pipes, Downer EDI Works, Stevenson Group and Goodyear.
Highlight deals of the year included the $53 million Fisher & Paykel Appliances sale and leaseback, which was the largest single industrial asset transaction in New Zealand's history, and the successful 22 property portfolio sale and leaseback for Downer EDI Works that included the sale of the company's main Penrose asphalt depot.
"We had a big finish to the year in December when we successfully concluded a number of large transactions for our clients" says Cooper. "And the majority were repeat clients, which speaks volumes for our team. We were particularly strong in the high-end sales market last year. In an environment where the investors were seeking quality property offerings, we were lucky enough to have some outstanding properties to take to the market."
Despite this recent success, Goldfinch believes there is still room for the business to grow. In his opinion, this will come through better alignment of the businesses represented in the office, particularly the South Auckland metro business.
"This is an unsophisticated market, with a significant lack of research, knowledge and professionalism within the sector. Through Charlie Oscroft, our recently appointed metro manager, we intend to rectify this."
Cooper and Goldfinch are optimistic about the commercial property market and say the early business sentiment has been "cautiously positive".
Goldfinch sees opportunities for 2010 including continued sale and leaseback investment offerings generated by companies raising capital as they look to shore up their bottom lines.
"This is something we were heavily involved with in 2009 and it is something we expect to see this year as companies restructure their balance sheets, although maybe not at last year's levels."
Cooper says Colliers expect to see some larger funds, both listed and unlisted, back investing in the industrial sector, having been in a "de-leverage selling mode" for the previous 18 months. "There is still a lot of cash from high net worth individuals looking for a secure home," Cooper says. "This was essentially the sole source of investment money in 2009 and we expect this group of buyers to also remain prominent in 2010."
Both Cooper and Goldfinch say that long leases continue to be attractive to investors and are even becoming the norm for larger offerings, as was seen with 20-year leases in the Downer EDI Works portfolio.
"Only three years ago, 12-year terms were considered to be long but investors and banks are increasingly demand a longer commitment," Cooper says. "The strength of the tenant covenant will therefore be the No1 concern for investors."
Land will remain challenging, both to sell and buy, due to funding issues and a lack of businesses looking for new design build premises.
"In the seven years leading to the global economic meltdown, we would typically see between 60 and 70 design build projects in Auckland each year," says Cooper. "In 2009 it went down to 10 and although 2010 already feels more positive we don't expect that side of the market to rise significantly. The industrial leasing market as a whole looks set to remain challenging in the short to medium term."
"Land is very interesting as there is a perception out there currently that values have tumbled, which is correct to a point, certainly if you take into account coastal and residential land and certain areas of commercial development."
Goldfinch points out that opportunities for investors and small to medium businesses to acquire greenfield industrial sites from 2000 sq m up to 20,000 sq m in the Auckland industrial market are still incredibly rare.
"Largely those who were under pressure holding land have sold out by now and owners of the remaining quality parcels are happy to simply sit and wait until they can realise good value."
Goldfinch says the new Highbrook team now has a good mix of experienced brokers being "pushed hard by some new blood". Paul Higgins has returned from Colliers Poland, where he headed an office in Krakow, and he has brought back fresh ideas and ways of doing things.