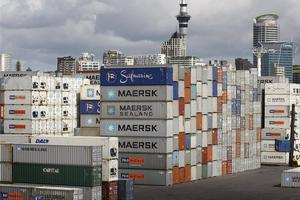 Milk powder, butter, and cheese, and crude oil have dominated a $9.2 billion, or 2.8 per cent, fall in exports in the December quarter, says Statistics New Zealand.
The overseas merchandise trade figures, seasonally adjusted and compared with the September 2009 quarter, were released today and showed a fourth consecutive quarterly decrease in exports.
Imports decreased 3.2 per cent to $9.4b, the fifth consecutive quarterly decline, which was led by falls in capital and intermediate goods.
The trade balance was a deficit of $170 million, or 1.8 per cent, of exports.
For the December 2009 exports were down $433m, or 11.3 per cent, to $3.4b on December 2008.
Milk powder, butter and cheese showed the largest decrease.
Imports decreased $776m, or 18.6 per cent, to $3.4b, led by mechanical machinery and equipment, and vehicles, parts, and accessories.
The decline in the export and import trends appeared to have eased in recent months.
The trade balance was a surplus of $2m, or 0.1 per cent of exports.
- NZPA