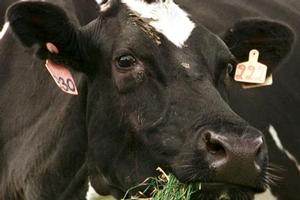 Companies behind large-scale proposals to farm dairy cows in cubicles have been urged to abandon their plans as the Government intervenes in response to wide public concern.
Environment Minister Nick Smith yesterday used his power to "call in" applications for proposed farming operations that would involve nearly 18,000 cows being housed in cubicle barns at least eight months of the year in the South Island's Mackenzie Basin.
It is only the eighth time since 1995 that a minister has called in applications under the Resource Management Act, and usually it is for controversial energy generation projects.
Much of the public opposition to the Mackenzie Basin proposals, labelled "factory farming" by critics, has been based on concerns about animal welfare.
However, Dr Smith's decision is based entirely on concerns about the impact on the environment from discharge of effluent. He has selected a board of inquiry with expertise in water quality to examine proposals from the three companies rather than leave it to local authorities.
"The effluent from these intensive farms is equivalent to a city of 250,000 people and raises quite legitimate questions over the long-term impacts on the water quality in the Mackenzie Basin."
Environmental advocates are pleased to see the Government step in, but are concerned about the bigger picture.
"I've seen some of the massive land use changes taking place in the Mackenzie Country, all of which are of very serious concern," said Environmental Defence Society chairman Gary Taylor.
"The scale and intensity of these three applications is clearly a step too far. I'd like to call on the applicants to abandon their proposals at this point and re-think whether cubicle farming is practical and achievable in the Mackenzie Country."
Green Party co-leader Russel Norman called the Government intervention a victory for all New Zealanders who care about the environment. He also wants any farming applications like this off the table, to prevent the Mackenzie Basin being "sliced and diced" until its future is properly determined.
Dr Smith said the proposals by Southdown Holdings Ltd, Williamson Holdings Ltd, and Five Rivers Ltd had aroused widespread public concern, with 4852 submissions lodged on the applications, almost all in opposition.
Waterways in the region were regarded as nationally significant, and the Mackenzie Basin was an important habitat for some endangered freshwater fish and birds.
Parliamentary Commissioner for the Environment Jan Wright wrote to Dr Smith calling for him to act on the Mackenzie Basin proposals, and she was glad to see the issues were being taken seriously.
"I am pleased with the calibre of appointments to the expert panel deciding these consents, and will watch progress with interest."
The board, headed by Environment Court Judge Jane Borthwick, will establish the process for hearing public submissions on the dairying proposals, before making its decision.
Dr Norman said he did not have "absolute confidence" in the outcome because environmental protections in the law were so weak.