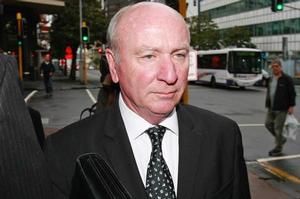 Rod Petrivevic was given a hard time by patrons of a St Heliers restaurant. Photo / Kenny Rodger
The Business Herald looks back at the year that was with an awards ceremony to celebrate the good, the bad and the downright ugly.
The city council "Reduce, re-use, recycle" award
Clever design firm Designworks was able to draw on work it had done for a Lower Hutt gallery to create a new logo for Telecom. The award-winning New Dowse "scribble" logo was about "turning the spark into a word, it encouraged people to tap into their creativity and imagine what that word could possibly mean", according to creative director and partner of Designworks Sven Baker.
Telecom's director of brand and marketing, Craig Herbison, said of the slightly scribblier version created for Telecom: "What we are saying here to people is that this is all about you - it is literally whatever you want it to be. This is about self-expression."
Spot the dog, I mean, difference - you be the judge.
* * *
The Tiger Woods award for brand damage
Cadbury, which caused an outcry when it replaced cocoa butter with vegetable fat, including palm oil, in its dairy milk chocolate. The confectionery giant bowed to consumer pressure and stopped using palm oil, saying it was "really sorry" about the blunder, which had angered chocolate lovers and further threatened the habitat of the Bornean and Sumatran orang-utans.
* * *
The David Tua award for fronting up
Mark Hotchin - the Hanover co-founder put all that housing stress (trying to flick the Parnell mansion and project-managing the $30 million monster on Paritai Drive) behind him and hit the road to face the angry and the destitute and sell the Allied deal. While the "I lost money too" line was galling, his presence at the meetings contrasted with the no-show by Eric Watson.
* * *
The best bathroom fade
Mark Hotchin again - following an investors' meeting in Christchurch, he told a TV3 reporter he'd answer questions after a toilet break - in the spirit of Eric, he never returned for the interview.
* * *
The TGIF award
Fisher & Paykel Appliances - there's nothing like rushing a bit of news out late on a Friday in the hopes that everyone has hit the pub or the golf course and won't notice until Monday morning. In the last couple of months alone the whiteware maker has told the market former CEO John Bongard was retiring earlier than expected, given an earnings downgrade, written down its North American assets and revealed a half-year loss - all on a Friday. Let's hope new chief Stuart Broadhurst, whose appointment was also announced on a Friday, will mix things up a bit.
* * *
Best rescue mission
The two Chinese investors who came to the aid of our once-iconic companies. First, appliance-maker Haier bailed out Fisher & Paykel Appliances and then agriculture firm Agria rescued PGG Wrightson from the evil clutches of debt. At first Agria appeared to be less pure than its white knight status suggested but the company seems to have cleared its name with a class action suit in the US failing to gain traction. All that remains to be seen now is whether the good deeds relate to just the cash or something more rewarding.
* * *
The Boeing award for an outsourcing disaster
Air NZ was left ruing its decision to outsource mainframe computing to IBM. A breakdown during maintenance brought down the airline's ticketing system leaving 10,000 passengers in the lurch for hours at the end of the school holidays in October. The airline came out swinging in the media but has since gone quiet, saying it remains a private matter between the two companies.
* * *
The Elin Nordegren award for getting one back
The punters who had a pop at Rod Petricevic at a St Heliers restaurant on behalf of Bridgecorp victims. Petricevic was reportedly abused by one elderly man and then wrestled into the gutter by another.
* * *
The New Coke award for ideas that failed to take
"Give it a go bro" was the top idea from a gathering of our finest entrepreneurs in May. Admirable sentiment, minimal take up.
* * *
The white cane award for creativity in accounting
NZ Farming Systems Uruguay's accounts included the howler "fudge this", overlooked in a final read. Although the blooper was quickly corrected and had no material bearing, it still raised a few eyebrows in the broking community.
* * *
The wagging finger award
Goes to Calibre Asset Services - trustee of the First Step Trusts - for telling off investors for speaking to the media about what is going on in the trusts.
In their latest letter advising investors they have written off another $70 million of their money, Calibre tells investors that it would prefer them not to speak to the media and not ask questions on behalf of the media. "Frankly, this is not helpful," it states.
Frankly, the Business Herald would have thought investors would have enough questions of their own about what has happened to $170 million of their money and why Calibre hasn't done more to prevent the losses without needing to ask any on behalf of the media.
* * *
The dicky crystal ball award
A plunge in house prices of up to 30 per cent was tipped for 2009 by one excitable commentator; instead they headed up towards 2007 highs - still there are those property tax changes looming.
* * *
Best David Copperfield vanishing acts
Contact Energy customers. Management and board bungles saw 40,000 abandon the Australian-owned company, which was then dragged into an expensive battle with rivals and forced to offer generous incentives to win them back.
The DNZ Property Fund IPO. The proposed $130 million listing was deferred to next year after backers blamed media stirring about its merits, including the $43 million payment for the management company.
* * *
The Helen Clark award for dubious decision making in art
The Tourism NZ board - chairman Greg Muir and fellow directors had to dip into their own pockets to pay most of the cost of a painting given to outgoing chief executive George Hickton. Tourism Minister John Key blasted the cost - around $10,000 - as "excessive expenditure of taxpayer money".
And the runner-up
Eric Watson - who waited 21 months before ponying up with the $1375 he owed to British-based Hope and Homes For Children for an antique Chinese painting bought at a charity event. He coughed up a few days after the Herald began making inquiries.
* * *
The Terminator award
Goes to Infratil for relentlessly pushing its Snapper ticketing system in Auckland at a time when as owner of strife-torn NZ Bus it was hardly public transport operator of the year.
And the runner up
Tony Gibbs' crusade to break up Zespri's monopoly of kiwifruit exporting.
* * *
Jim Morrison peyote button award for most psychedelic blogger
Someone called Cactus Kate for her hallucinatory post suggesting the Herald had cut its legal budget and directed senior editors not to tackle legally difficult stories.
The Business Herald can assure readers that none of it was true and we continue to keep our company lawyers busier than ever. The tough times certainly haven't made companies we report on any less litigious.
* * *
The Caterpillar D9 award
Goes to Energy and Resources Minister Gerry Brownlee for services to the extraction industry with his stocktake of mineral resources on the conservation estate.
* * *
Most deserved bankruptcy
Mark Bryers - who was declared bankrupt in October owing a long list of creditors $173 million.
* * *
Lousiest move by a New Zealand-owned bank
Kiwibank's closure of branches in Christchurch, meaning the elderly and disabled have to travel to do their banking.
* * *
Most popular move by the taxman
The IRD's dogged and successful pursuit of the Australian-owned banks for over $2 billion.
* * *
Worst PR tactic
Practitioners who tell media organisations which journalists they don't want covering a story. A word to the wise: that approach is bound to backfire, always.
* * *
Acronym of the year
GFC. Greymouth Fried Chicken? Grey Lynn Football club? Grandfather clock?
No it's the global financial crisis. Not very romantic but we had to call it something.
* * *
Give that man a DB
Chris Liddell, unfazed by the implosion in the US car industry, has taken on the chief bean counter role at GM and is on the fast track to the top job.
Good luck.