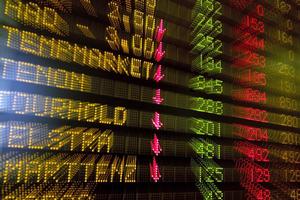 Shares in Allied Farmers yesterday plunged by more than 30 per cent after the issue of 1.9 billion new shares to former Hanover Finance investors.
The rural services company, which last week received approval to buy the assets of Hanover in exchange for issuing shares to Hanover and United Finance debenture holders, fell 4.7c to 10.1c yesterday.
Allied issued the new shares yesterday morning and by late afternoon close to 8.3 million had changed hands.
But ASB Securities broker Stephen Wright said the turnover was at a low level compared to the total number of shares issued and it was likely only the experienced sharemarket investors were selling up.
"You've got a lot of new investors who aren't used to being in the sharemarket."
While the shares were issued yesterday most debenture-holders would still be waiting to get confirmation in the post of how many shares they now own.
Investors also need to have a FIN (Faster Identification Number) or holder number before they can sell shares.
Brokers generally accept a seller if they know they can get the FIN within three days, Wright said.
Hamilton Hindin Greene adviser James Smalley said it was likely many of the Hanover and United investors did not even have a broker.
Smalley said it could be weeks before the full value of the deal was worked through the share price.
"We have still got to see the full extent hit the market."
The Hanover vote was passed by 75.45 per cent of debenture-holders which could leave the other 24.55 per cent wanting to sell out.
That could potentially mean another 470 million shares changing hands.
"This one has definitely got a few more days to go before this deal is fully priced in."
Smalley said Allied's share price effectively valued the Hanover assets at 35c in the dollar.
He said it was difficult to know if the share price would fall further and if so how far.
"It just depends on how many buyers and sellers turn up - it seems there will be quite a few sellers turning up on the same day. It's a question of how much pain they are willing to take to sell them."
Smalley said it would likely take 10 million or even a hundred million shares to turn over before the deal was worked through.
"This could be a long drawn out process."
The timing over the Christmas period, would also stretch it out.
Wright said the size of the deal meant Allied's original assets were now less than 2 per cent of the company.
"It's now mostly Hanover assets in there. Only time will tell how well they do."
He said the share price was only reflecting supply and demand at the moment.
"It doesn't tell us anything about the fundamentals of the company. The sharemarket valuation of Allied has dropped by 30 per cent but it doesn't mean the value of the loans have dropped by that."
Allied Farmers chairman John Loughlin said share allotment notices should be received by shareholders today and FIN numbers were mailed out yesterday.
"Allied Farmers expects Hanover and United investors will receive notice of their share allocations and FIN numbers from [today] onwards."
Loughlin said new shareholders wanting to trade shares prior to receiving their FIN number should contact a broker who could get the number from the share registry.
Allied Farmer's share have fallen from a year high of 80c and were valued at 28c before the deal with Hanover was finalised.
TUMBLING DOWN
* An investor owed $100,000 by Hanover was told the Allied Farmers deal valued their stake at $72,000.
* The investor was offered Allied shares valued at 20.7c each. Investors were told this share price was the equivalent value of 72c in the dollar on their original investment.
* But since then the share price has fallen and after yesterday's trading the market price was down by more than half.
* So the investor who was owed $100,000 by Hanover now has an investment worth $35,136.