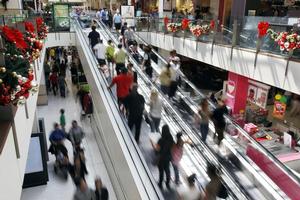 With only four shopping days to go before Christmas, parking spaces are still available at the malls.
Shoppers say they are spending less. Retailers report quieter-than-usual stores.
Trying to get in a little last-minute shopping, Toni Chase took the bus to St Lukes. The recession had made a difference on how much she could spend.
"We are definitely cutting down," she said. "I've just finished university. It's harder to find a job, and employers are paying less, so this means we're cutting down on our spending."
Another shopper, Andrea Emirali, said she was amazed to find a car park at the mall. She says the recession has changed the way she is shopping for the festive season.
"I'm British and quite traditional, so I always buy gifts, but this year it's different. We haven't cut down on anything for the kids but we're not buying presents for our parents, our siblings. That's changed."
Waiting for his wife before heading into Farmers, Paul Olney had also noticed a shift in how people are shopping.
"I think, like last year, people are leaving it to the last minute. But even so, this is a later rush than normal, and I guess the recession is part of it."
The Jeans West store manager at St Lukes, Claire Ushaw, said the lack of shoppers was bordering on the ridiculous.
"We are open for longer hours but we can't make the same sales as we do on a normal weekend. People are still buying, but it's smaller stuff."
Miss Ushaw said next year would not see many late nights because there was no way to justify hours when money was not coming in.
One store manager, who did not want to be named, said it was harder this year just to make a sale.
"We are way down on last year. People are buying smaller-ticket items and they have become very budget conscious."
However, Simon Tong, the chief executive of Paymark, New Zealand's major electronic transactions processor, said: "Saturday was a good day.
"By the end of the day we had $165 million through the system and a peak of 103 transactions a second. But Sunday was a bit quieter. We had a peak of 77 transactions a second."
Mr Tong expects a very strong Christmas Eve. "We have been in this business for 20 years, and virtually every year Christmas Eve is big. This has been a hard year for retailers, so let's hope these last four days are a boomer."