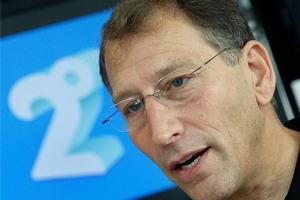 Anyone waiting for cellular network newcomer 2degrees to add on-account services to the prepaid plans it launched at the start of August shouldn't hold their breath.
2degrees boss Eric Hertz said last week it would be 12 to 18 months before contracts would be offered.
"We'll do it when we have a good product," says Hertz, one that will compete with Vodafone and Telecom on more than just price. More detail would be giving the game away, he says.
"It's a highly competitive business and these guys are doing all they can to lock people into contracts. My advice to business groups is, why would you sign a contract now when there's a new entrant in the market? Do you expect prices to go up or down in the next 12 months?"
There's every reason to think they'll go in the same direction as prepaid prices, which the Commerce Commission reported last month had dropped below the OECD average for the first time, thanks to 2degrees.
Hertz is happy to take the credit. And deservedly so, says Ernie Newman, head of the Telecommunications Users Association.
"We've always maintained that you need three market participants to produce really effective price competition and I think the evidence is there that it has taken 2degrees' explosion on to the market to bring everyone's prices down."
After about 100 days in business, Newman struggles to fault 2degrees' performance.
"My impression is it's well and truly on target. I haven't seen too much in the way of official figures but the scuttlebutt around the market is that it's making a real impact." He guesses the company is taking slightly more customers from Vodafone than from Telecom.
Hertz isn't about to say how many subscribers 2degrees has but claims the number is "well above" 100,000. Even if, as he says, new customers are coming along at a faster than expected rate, they're a tiny fraction of the company's two rivals.
At the end of June Vodafone had about 2.5 million mobile subscribers and Telecom roughly 2.2 million, a market penetration rate of 109 per cent. That means an awful lot of us cart two phones around, which Hertz blames on the exorbitant cost of communicating between networks.
It's a cost determined by mobile termination rates - the amount the network operators agree to pay each other for calls and texts between networks.
For Vodafone and Telecom, with a roughly equal amount of money moving in each direction, keeping the cost high is to their advantage since it acts as a drag on their new competitor's cashflow.
Since April the voice call termination rate has been 15c a minute. The Commerce Commission has indicated it thinks it should be less than half the present rate, falling to about 4c by 2015. 2degrees wants it set lower, at cost, which it says is negligible.
Seeking agreement has so far involved dozens of documents going back and forth between the commission and the three mobile network operators, numerous other parties; and a conference.
The tone of the correspondence is polite but Hertz, while not criticising the process, wishes the commission would lay down the law. "I think the only way we're going to get to a reasonable price is regulation," he says, adding that if the rate was substantially dropped, everyone would make more calls and all the networks would benefit.
So would subscribers, although Vodafone tries to say otherwise.
The outcome is going to be critical to 2degrees, says Newman. "I know this is utterly pivotal to its business model. It must be hurting every day that this goes on. But we're quietly confident that it is going to come out favourably."
The verdict shouldn't be far off. A commission spokesperson says the latest submissions from each of the network operators are being gone through before a recommendation is made to Communications and Information Technology Minister Steven Joyce this month.
Hertz is remarkably relaxed about the way the market is operating.
"I think the Government and the regulator are trying to enable more competition. They see what the benefit of additional competition is. It's late relative to other OECD countries but it's not too late and they're doing the right thing."
As to when 2degrees will be profitable, he's not making any predictions. However, by 2011, he expects it to be cashflow-positive, an important milestone since it will provide funds to reinvest in the business. "We want to be a significant player in this country and there's no reason why we can't be the No 1 or 2 wireless player over the next 10 years."
Cheaper by Degrees
Before August: Cheapest NZ prepaid plan cost over 50 per cent more than OECD average
August: Cheapest NZ prepaid plan (2degrees) was about 20-30 per cent cheaper than OECD average, depending on usage.
Source: Commerce Commissionwaiting game
Anthony Doesburg is an Auckland technology journalist