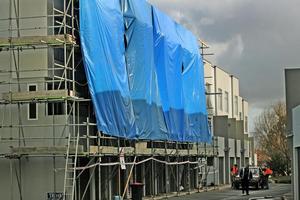 Tough financial times can be a boon for lenders of last resort.
Economic winters take a toll on vulnerable companies and so swell the workload of liquidators.
A huge industry has grown from the leaky buildings crisis.
Hard times make for good buying for shrewd investors and inspire innovation among retailers who must get smart or die.
Let's start at the bottom of the cliff.
It is an unfortunate fact that in times of recession more companies fail, creating work for those whose job it is to tidy up the mess.
The number of liquidations handled by the Insolvency and Trustee Service (part of the Ministry of Economic development) more than doubled, to 373, in the year to the end of June.
The service is appointed by the courts and while the growth in the number of company failures it handles reflects the trend, it does not represent all company failures.
Busier may not mean richer. The nightmare that those who wind up companies are discovering is there is often nothing left once debentures and first mortgages (usually held by banks) are paid.
Many of the failed finance companies are likely to net down to not much more than the cost of their wind-up. Liquidator Damien Grant of Waterhouse Insolvency says his field of work is not necessarily more profitable, because the assets of failed businesses are worth less.
"Vehicles are selling for less; office furniture you can't give away. We have about 20 computers sitting in our offices that we can't sell. Two years ago we might have been able to sell those for $5000 or $10,000: now they're probably worth $1500."
"Insolvency is not a particularly lucrative field - half the time there's nobody to bill. We're gambling that the work that we do is going to result in a payout - that there's somebody we can collect the money from."
He says it's the large receivership firms sent in by banks that do well from an increase in firms going bust. They include Korda Mentha, Grant Thornton, Deloitte and PricewaterhouseCoopers.
It is not just the number-crunchers who are kept busy. Firms which take over failed businesses can also do well, particularly if they have few debts, says Grant. He cites a young partnership which picked up a failed scrap metal business and now has 15 staff.
Property is another field where there's money to be made, particularly as struggling second-tier finance companies look to sell assets.
"They are virtually giving stuff away because they need the cash. A savvy property guy can make some really, really good money.
"One small brokerage-finance company got a $20 million line of credit from the bank and they are now doing mezzanine and second-tier financing for a whole raft of property deals. These guys are creaming it."
Speculators
Warren Buffett, one of the world's richest men, put his strategy in a nutshell. "We simply attempt to be fearful when others are greedy, and to be greedy when others are fearful."
Trevor Rands, a property investor, agrees that stringent times are ripe with opportunity. "Our philosophies haven't changed a lot. Our opportunities have."
When the market is harder, you get the opportunity to buy better, he says, as commercial properties rarely available come up for sale as owners are squeezed.
"When an entity that normally wouldn't sell has to sell, they normally have to sell their best first. In the good times, why would you sell your best assets?"
Public companies can feel obliged to sell good assets because of shareholder expectations regarding dividends and debt-asset ratios. That can put a burden on those companies that doesn't give the flexibility needed in property.
Though a public company may feel obliged to meet dividend expectations, a private company can choose to retain funds as a safety net against negative events such as a tenant failing.
Rands sees the demise of the property market coming from very few sources - over-supply of development land in marginal areas ("boom-bust town Queenstown", Kinloch, Orewa, Gulf Harbour) and in investment apartments. With those "problem centres" carved off, Rands says the property market is not too bad.
"Sadly, the marketing of a lot of bad-arses who were promoting negative-geared investments has created a lot of grief - and Blue Chip is just one example of the extent that madness got to."
Rands' fundamentals for property is underlying land value supported by improvements. "But we are not looking for fully developed sites - the value is in the land."
Business is good, busier than usual "but not rampant", he says, because they are sticking to their conservative approach, "to buy well-located property that at some point in time someone will want".
They bought a $7 million commercial property recently and are negotiating over "several" properties of similar value. "As long as you can cash-flow it, and enhance its value as and when the market allows, you will be fine."
Advice? Avoid leasehold. "Dirt is everything."
Leaky homes industry
The blame game is alive and unwell in this sector, with the Government not wanting to contribute beyond 10 per cent of an estimated $11.5 billion problem along with a desire to avoid burdening the Super City with a crippling liability due to previous councils' culpability.
A Government briefing document given to some council chief executives reportedly accused "cartels" of lawyers, experts and builders of fleecing homeowners, who were left with no money to repair their homes.
What is clear is the leaky buildings crisis is good business for some. Grimshaw & Co is the busiest specialist law firm in this sector. It opened in November 2005 with 15 litigators including former Cairns Slane partners, Paul Grimshaw and Matt Josephson.
Grimshaw says he and Josephson saw an opportunity in 2002 to help leaky building owners. Such was the rapid rise in demand, they made the move to set up a specialist firm which now employs 25 lawyers and 15 support staff and acts for more than 6000 property owners.
"Owners want money back. The defendants (councils, builders, developers, architects, insurance companies etc) don't want to pay, and the defendants hire flash and expensive lawyers to fight their case. So we built a law firm to better those lawyers and get money back for the owners.
"Over the past seven or so years, we've got tens of millions of dollars back for owners."
Clients have come from around the country and Grimshaw & Co has opened an office in Wellington with another to open in Tauranga in the New Year.
Unsurprisingly for a litigator, Grimshaw says the courts are best-equipped to deal with leaky buildings. "It's too big for central Government to solve. The courts have been handling disputes like this for a long time now, and the court system works."
Owners, he says, can recover 100 per cent of their costs to fix, of moving out while repairs were made, win damages of up to $25,000 for the stress, and most of their professional costs. "It takes a while ... but the owners come out as winners, so let the courts do their job."
Heaney & Co, which predominantly works on the other side of the legal fight, seeking to limit financial liability of councils and insurers, is also busy, as is the Home Owners and Buyers Association (Hobanz), formed as a result of the crisis. Set up by John Gray and Roger Levie - who both owned leaky homes - its aim is to be a low-cost advice centre in the mould of the Automobile Association.
Gray and Levie have also set up Lighthouse, which consults to leaky building owners. It has 14 administrative staff, with legal work done by law firm Hayden Tate which shares premises. Levie says legal advice - at $180 to $280 an hour - is much cheaper than big city law firms. Lighthouse charges for administrative work at $80 an hour but guides owners to do as much as possible of the work on making a claim themselves, thereby keeping costs down.
Lighthouse and Hobanz advise on how best to make repairs and on whether to pursue their claim via litigation or the Weathertight Homes Tribunal. Levie says those they assist with the tribunal claim an average 60 to 90 per cent of all costs, which is often more than 100 per cent of the repair cost.
Prendos, a leading leaky buildings specialist, has never been busier. It employs 57, up from 30 three years ago, having beefed up its architecture, building and quantity surveying staff.
Its directors, Greg and Philip O'Sullivan, brought the leaky buildings issue to national attention through the Herald seven years ago.
They reject claims that their firm and others like it are adding to the cost of the crisis, as everyone needs their own expertise and going to court is often necessary to force compensation to be paid.
The crisis had unfolded as they had expected, says Greg O'Sullivan. Some operators had done poor patch-up work and Prendos was now getting "second time around work" as a result.
The main driver of the firm's growth, though, has been its involvement in the process to fix big complex leakers - multi-storey, semi-commercial and industrial buildings, such as the 23-storey Spencer on Byron on the North Shore, 12-storey Nautilus in Orewa and Chancery, a cafe, shops and offices quarter in the city.
Demand is increasing and he expects that to continue, as changes to building regulations have not resolved underlying issues. "There is a huge technological gap and education gap in New Zealand construction."
Mobile shop trucks and loan sharks
These industries target the poor and do well when times are tough. Mobile shops, operating from trucks, sell household appliances, electrical goods, clothing and sometimes food, door to door on credit for high prices.
A Consumer Institute report in 2005 estimated the mobile shop truck industry turned over $35 million a year. The institute hasn't updated its estimate but anecdotal evidence suggests it has grown.
Darryl Evans was a year into his role as chief executive of Mangere Budgeting and Family Support Services the year that report was written. He estimates the number of companies operating has since multiplied and could number 25.
He says it is profitable for company owners but a poverty trap for consumers. Food can be triple the Pak N Save price for the same item.
"Very often [customers] have bad credit and [therefore few] ... options," says Evans. "They are desperate and will agree to almost any arrangement. If you don't have the option of [credit] from a high street bank, you go where you can get it."
Complaints to the Ministry of Social Development led to the practice of direct payments from benefits being stopped, but the practise of asking consumers to sign multiple automatic payment forms continues.
Companies use these for backup should the consumer cancel a payment, but Evans says it results in some customers going into credit and being required to spend it with the mobile shops.
He estimates 60 per cent of clients of his budgeting service have used mobile shop trucks. "I call them piranhas. They are a scourge in South Auckland."
The Commerce Commission has warned some operators - Lync NZ Ltd, Suny Pacific International Ltd, Impact Door to Door Ltd and The Good Guys Ltd - and prosecuted Lelei Finance, for failing to disclose key information about comparative costs of goods.
The commission's fair trading manager, Graham Gill, says another firm was recently warned for requiring a customer to spend credit on goods. "We view it as an overpayment that they should refund."
Although there hasn't been a rise in complaints, Gill says information available to the commission suggested more people may be using moneylenders.
It is difficult to tell whether there were more of them as they don't currently have to be registered (a law is proposed to change that).
Evans says most short-term loan contracts he has seen set the client up to fail. The system needs more checks and balances. "The moneylenders don't care. Where an asset, such as a car, is security they can repossess and sell ... it's a win-win for them and a lose-lose for the punter."
'Pop-up shop' industry
High rentals and vacant space are driving this recent trend. It's popular in the fashion industry among smaller labels that can't afford high street rentals, but is not confined to the sector.
Icecream shops have popped up to make the most of summer. The "Heineken Hotel" - run out of a shipping container - pops up for events such as tennis' Heineken Open, and the Popup Bar is operating for three months in the old Birdcage Hotel which is awaiting removal ahead of roading construction.
Pop-up shops give retailers the chance to test the market in different locations, boost awareness of their brand and drive traffic to their websites.
Fashion commentator Paul Blomfield says "hysterically expensive rentals" that occurred before the recession and haven't fallen enough is a significant factor, as is looking for new ways of doing business.
The Department Store, housed in the old Takapuna Post Office, is similar to many other department stores, with a number of brands running their own operations but mixed in with "pop-up" retail space.
Macaroni Penguin (the name came from a Google search for New Zealand birds) featured several fashion designers and did good business when it popped-up in Newmarket's hip Tweed St. Typically, publicity included an "A list" launch function covered in media gossip pages.
Shaz Dixon of Styledirect, which sells a wide range of fashionable and contemporary design products, has registered a company called Pop Up Shop and has embraced the concept for shop sales but also to drive customers to styledirect's website .
It makes sense financially, she says. In eight years retailing from a shop in Ponsonby her rent almost tripled. "You either go bust or you get smart."
"In these challenging times a retailer can't afford to be static, sitting around waiting for the customer to come to you. Four to six weeks is the usual time at any one location. Prices are significantly reduced but we don't consider ourselves a clearance or an outlet store."
Styledirect has had five pop-ups in the past four months and now has one in Whangarei and one in Ponsonby.
- ADDITIONAL REPORTING: GEOFF CUMMING