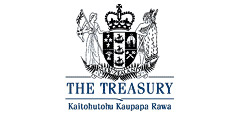 Treasury argues that a "front-loading" of fiscal policy accompanied by significant tax reform could take pressure off monetary policy and make the New Zealand dollar materially lower for several years.
In a report on options for reform, Treasury painted a bleak picture of an under-performing New Zealand economy and outlines some tough choices for the Government.
Many sections of the report, released after requests under the Official Information Act, were deleted.
The report holds out the prospect of a large-scale re-orientation of the economy.
Cuts in government spending could result in the official cash rate being set lower than it otherwise would be for several years, Treasury said.
The exchange rate would fall if the official cash rate was actually, and expected to continue to be, lower.
"The tighter New Zealand's fiscal policy is, the looser our monetary policy is likely to be and, as a result, the lower the exchange rate," the report said.
One scenario had the NZ dollar well below its long-run average for three to four years, allowing for a shift toward tradeables production.
The report noted that when the 2009 budget was produced the risk of a credit rating downgrade was being managed and there was a need to provide support to demand in the midst of a recession.
"Having dealt with that initial situation, some more significant adjustment is now warranted," Treasury said.
"You have the opportunity for a once in a generation re-orientation of the tax system," the report tells the current government.
The front-loaded fiscal policy and significant tax reform would reduce consumption and lower house and farm prices. It would increase business investment and profitability in the tradeables sectors of the economy.
It would also improve the fiscal position and provide scope for overall tax cuts in future years.
- NZPA