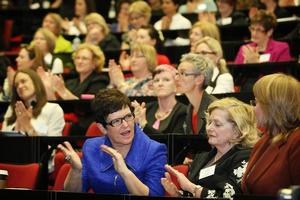 There aren't too many high-powered networking occasions when it's acceptable to say "love your shoes".
Then again, the dress standard at the New Zealand Global Women network's first forum in Auckland yesterday was considerably higher than you're likely to see at the average grey-suited gathering of business people.
Launched in July, Global Women aims to provide networking opportunities for women at the top of their game and to mentor emerging female leaders.
The organisation has big names behind it. Board members include former Prime Minister Dame Jenny Shipley, constitutional lawyer Mai Chen and Securities Commission chairwoman Jane Diplock.
Around 160 women attended its first day-long forum at the University of Auckland Business School, a considerably higher turnout than Global Women's base membership of about 75.
The organisation is working towards a "tipping point" where women make up at least 30 per cent of the country's board directors and senior management.
New Zealand's record on this front is dismal. Only 8.65 per cent of NZSX top 100 directors are women, compared with 14.8 per cent in the US. Sixty per cent of New Zealand's top 100 companies have no women directors; in the UK that figure is just 24 per cent.
Global Women is launching the Women in Leadership programme next year, providing high-level mentoring and targeted professional and personal learning to selected women. The aim is "to build a large and sustainable pipeline of women leaders across New Zealand's large private, public and non-profit organisations".
However, in a lecture theatre at the university's Owen Glenn Building yesterday the main focus was business. The speakers came from diverse sectors.
Former Telecom chief executive Theresa Gattung, now chair of the wool marketing initiative Wool Partners International, delivered an impassioned address on the state of the wool industry. New Zealand produced 30 per cent of the world's strongwool but the highly fragmented sector was not capitalising on this global scale, she said.
Instead wool prices had been steadily sinking for 20 years - from more than $6 a kg in 1989 to under $3 today. Synthetic carpets were now the same price or dearer than wool.
"This is either a comedy or a tragedy - actually it's probably a farce."
Helen Anderson, chief executive of the Ministry of Research, Science and Technology, flew the flag for greater investment in research and development. In Finland business expenditure on R&D was worth 2 per cent of GDP - in New Zealand that figure is 0.5 per cent, she said. The fact that more than half of New Zealand businesses employed fewer than 50 people did not help.
Part of the strategy needed to be helping the firms who "get it", Anderson said.
Katrina Troughton, director of IBM's WebSphere Software Group in Shanghai, spoke of the need for diversity in the workplace and for women to back themselves.
"Sometimes we almost have to be told we clearly have the attributes to do these roles."
Diane Foreman, the owner of ice-cream company NZ Natural, described her excitement at being the first woman entrepreneur to represent New Zealand at the World Entrepreneur of the Year awards in Monte Carlo next year.
The theme of "New Zealand Inc" ran throughout the day, and one had the sense that the country could do worse than letting some of these designer-suited women lead the way.