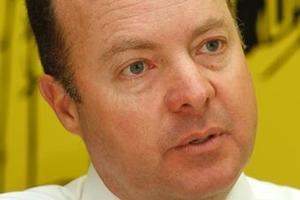 Chris Gudgeon of Kiwi Income Property Trust has defended the $125 million notes issue which opens today.
Gudgeon, chief executive of Kiwi's manager, was responding to criticism that the mandatory convertible notes issue would be a bad deal for the business and its unit holders - but a good deal for the manager.
Kiwi is offering to pay 8.95 per cent on the notes annually over the five-year term. The offer closes on December 11. The notes are expected to begin trading on the NZX on December 16.
Gudgeon said the deal was important for the trust, an effective way to raise capital and he cited three reasons for that. "This is a five-year investment so in terms of prudent capital management, that's a good thing," he said.
"We already have mandatory convertible notes which convert [to units in the trust] in June next year so we're replacing those. We're also positioning ourselves to take advantage of a very nice property investment opportunity with an 18-year lease to a blue chip tenant which frankly is a once-in-18-year deal.
"It's a very special opportunity and all going well, will be a great investment for the trust.
"So I absolutely refute that this is an expensive way to raise money. This is a very cost-effective way."
A $130 million development deal is expected to see Kiwi build new offices for either ANZ National or ASB on Halsey St in the Viaduct and the $125 million will be used partly to fund that.
The bank would lease the building for 18 years and this would be Kiwi's second huge development this decade after Sylvia Park.
Gudgeon said Kiwi executives planned to meet UBS analyst Lance Reynolds today. He wrote an analysis which questioned some aspects of the new development. Reynolds is concerned about the impact on other Auckland Kiwi office properties.
Although the development would see the trust's weighting in prime office-grade assets climb from 55 per cent to 65 per cent, Reynolds is worried about Kiwi's National Bank Centre on Queen St and the Auckland Regional Council headquarters that it owns on Pitt St.
"The space created by the development would likely increase market vacancy in the short term, especially in the southern end of the city.
"This could impact demand for Kiwi's National Bank Centre and Pitt Street properties in our view," Reynolds wrote.