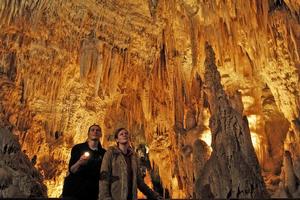 Tourism Holdings is predicting a first-half loss of up to $1 million as it continues to battle a tough environment.
Chairman Keith Smith told shareholders at the company's annual meeting yesterday the predicted loss would be better than last year's half-year loss of $4.8 million.
But it was too soon to say whether the improvement would translate into a better full-year result.
The campervan rental company, which also owns the Waitomo Caves tourist attraction, made a profit of $2.9 million in the year to June after receiving a number of one-off boosts through the sales of its Kelly Tarlton's and Milford Sound businesses.
But excluding those sales it made a loss of $1.4 million.
Smith said the company's campervan manufacturing business CI Munro had made improvements in its performance and the company was getting better revenue out of its Australian rental business.
But the recovery for the tourism industry was still uncertain.
"As consumer confidence grows which benefits arrival numbers, we then have to battle an increasing currency and - more importantly - a risk that airlines may start to further cut capacity rather than stimulating demand through pricing," said Smith.
Smith said based on present booking levels, hire days appeared to be down and lower production levels were expected at CI Munro compared to the second half of the 2009 financial year.
"The full-year is still unknown and, given ongoing changes in buying patterns, the fluctuations in currency and the current forward book, we are not in a position to provide realistic year-end guidance at this point."
But the company had a strong balance sheet and was financially stable.
Chief executive Grant Webster said he did not expect to see a pick-up in the tourism sector until half way through next year based on consumer confidence levels. Despite that Webster said the business was focused on getting back to profitability as soon as possible.
Webster said Tourism Holdings planned to work on differentiating its four rental brands and had opened two new retail branches to try and boost sales in Auckland and Brisbane.
It was designing a new six-berth campervan and had introduced a new online and onsite self-check facility for its rental business.
Dividend payments had been put on hold but the company hoped to resume them in the second half of next year.
Shares in Tourism Holdings closed unchanged at 71c yesterday.