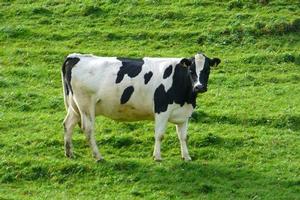 Fonterra's announcement yesterday that the milkfat payout will be at least $1.50 a kilogram more than forecast will greatly ease the tension many dairy farmers have been under.
The move will put an extra $110,000 into the bank account of the average dairy farmer.
Waikato Federated Farmers dairy chairman John Bluett, who has 980 cows on two farms at Te Pahu, said the advance would help struggling farmers to service their debts.
It was a get-out-of-jail card not only for farmers but also for the industries that service their equipment.
"This will actually give farmers the ability to strengthen their balance sheets, cover their costs and put their businesses on a better footing."
Putaruru dairy farmer Martin Bennett agreed that the forecast meant farms that were going to post significant losses would now probably meet their budgets.
Mr Bennett's 400 dairy cows on his 136ha farm produce 140,000kg of milk solids a year.
He believed that most dairy farmers would use the extra money to secure their businesses.
Te Kauwhata dairy farmer Peter Buckley, whose farm with 200 cows is debt-free, said a cautious approach would probably be best. "We could put it in the bank, use it to invest in other things, save it or go on a holiday, but I doubt I will be going on one any time soon."
Fonterra Shareholders' Council chairman Blue Read said there had been a "subtle expectation" among the dairy co-operative's 11,000 farmers of a payout increase.
But yesterday's increase, which is $1.50 more than the $4.55 forecast at the beginning of the 2009-2010 season, caught many by surprise.
The $6.05 a kilogram of milksolids means at least an extra $1.2 billion for the national economy after whole milk powder prices on Fonterra's global internet auction rose by 88 per cent over the past four months.
"The quantum of the increase was a bit of a surprise to most," said Mr Read.
"The original payout was barely enough for a debt-free farmer to operate at much more than break-even, so you can imagine that to be back up to $6.05, we are now back into territory where we can do some maintenance and more expenditure on farms."
Asked if the payouts were sustainable over the long term, Mr Read said times were volatile and it made sense for farmers to consolidate their balance sheets rather than spending on an overseas trip or a new boat.
Fonterra chairman Sir Henry van der Heyden was cautious despite the co-operative's increasing confidence.
He said things were heading in the right direction and the co-operative was making the most of the opportunities for its farmers.