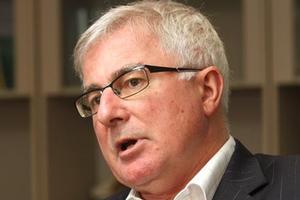 Trade Minister Tim Groser says it's crucial that New Zealand agriculture doesn't throw away an enormous opportunity in years to come.
Agriculture needs to focus on meeting the growing demands of global political and economic markets, if we are to succeed through to 2050, he told an audience of farmers in the South Island today.
By that time the demands of societies upon their natural resources will be critical - and they will be looking to countries like New Zealand where we have natural resources in abundance.
He told Federated Farmers that we face unusually favourable long-term prospects for NZ agriculture and trade.
World population is likely to grow by about 3.5 billion people before stabilising in 2050 at around 9.5 billion, he said. This, combined with the expected enormous increase in wealth, particularly in Asia, implies that world food production needs to increase 50 per cent in the next 20 years; it needs to double in the next forty years.
"And in this world, we are a world-class agricultural player", said Groser.
One of the secrets to our success, Groser says, lies in water.
"Water is crucial to all agriculture, consuming 70 per cent of all the world's fresh and liquid water. Our competitors have massive water problems - our problem is the opposite - marshalling better the massive waste of water that falls on our land", he said.
Groser pointed out we have essentially solved the problem that has bedeviled NZ agriculture for 40 years: access to markets or the right to sell our competitive products.
"Our trade policy", he asserted, "has been, by any measure, an outstanding success and there is more to come.
"The barriers are down."
However, with opportunity comes responsibility, warned Groser.
He went on to list a few key challenges for the agricultural sector:
In Asia, he said, we need to develop new and more complex supply chains with customers we do not understand deeply.
And in our traditional markets in Europe and North America, "we face completely new demands and potential restrictions on our exports.
"But it is not about Governments, traditional agriculture protectionism and Government-imposed restrictions. It is about our customers and the giant retailers who decide sourcing."
Groser added that we ignore climate change trends at our own peril.
The minister quoted the examples of Walmart and McDonald's. In their determination to be environmentally-friendly companies, both of them are steadily shutting the door on purchasing from suppliers who don't follow policies that display climate-change awareness.
Walmart is putting in place a Sustainability Index, he said, and McDonald's is ceasing to buy beef from cattle suppliers who don't actively practise sustainability. "Macca's" is also working to end use of antibiotics in food products, reduce pesticides, and find more humane slaughtering methods.
So get on board - or risk missing the boat, was the clear message from the Trade Minister.
- NZHERALD STAFF