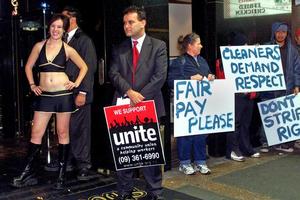 Last Monday was Labour Day. Our forebears ensured this day was legislated so that workers could take a day off to celebrate the role of workers.
There used to be a time when the role of the working class was central to the politics of New Zealand. The partnership between capital, labour and the state was understood. The welfare state, underpinned by a living wage, was negotiated. This arrangement created an egalitarian society that was the envy of the world.
The 1984 neo-liberal coup led by Roger Douglas convinced enough of the populace that the welfare and workerist state was redundant and a new world of choice and freedom was at hand. Successive National and Labour-led administrations cemented this right-wing ideology into all aspects of our economic life. Few of us remember a time when the subservient role of our political leaders to corporate interests wasn't normal.
Where once we insisted that any business was obliged to pay its employees a living wage, many workers today have to rely on the legal minimum wage for their income. Of course many of these low-paying employers put their hand out for wage subsidies from the state as well. We have an outrageous situation where hundreds of thousands of workers have to rely on accommodation allowances and family support to prop up their inadequate wage. So much for the neo-liberal's free market that was supposed to lift wages.
Where once we used Labour Day to reflect on the role of workers, mainstream news was silent. Nothing about workers. In fact, no serious news.
Thankfully Mike Treen, the Unite Union director did some research of the role of workers since we tossed out Sir Robert Muldoon and opened up the economic and labour markets. According to the Labour Cost Index real wages declined by a quarter from 1982 until the mid 90s and has never recovered. That's a 25 per cent pay cut. More depressing is that between 1982 and 1991 the bottom 20 per cent of wage workers had their taxes increased by 2.2 per cent while the top 20 per cent got net tax cuts of more than 10 per cent.
Treen's research finds that under the Rogernomic/Ruthanasia revolution a whopping 10 per cent of the entire country's annual income was transferred from "compensation of employees" to "operating surplus". This means that in today's money $120 a week now goes from the pockets of workers to the coffers of capital.
During this period almost all workers have lost allowances, overtime and weekend rates. They are only able to cope by increasing their hours and running up more debt. In 1994 household debt was equal to 60 per cent of Gross Domestic Product. Now it's equal to 160 per cent. Two thirds of households now work more than 50 hours a week with one in five families, according to the Ministry of Social Development, now living in severe hardship.
Yet whilst workers have been getting poorer, their productivity in the past 30 years has increased 80 per cent. This has allowed shareholders and corporate chiefs to cream it. Profits have been huge over the past decade and even with the recession senior managers seem to still reward themselves with huge pay hikes. Workers, on the other hand, are expected to be grateful for not having a wage rise at all.
One of the main historical figures on Labour Day we are supposed to celebrate is a carpenter named Parnell. He refused to work more than eight hours a day and advocated that a working man must be able to feed and house his family working on eight hours a day. An eight-hour day for most workers now is only a dream.
Workers today are more productive and work longer whilst wages are going backwards. Conversely shareholders wealth and executive salaries have skyrocketed. No wonder the elites don't want to draw attention to the true purpose of Labour Day. Workers might start thinking.
- HERALD ON SUNDAY