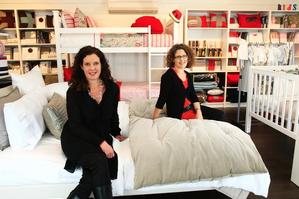 A friendship that began when they were 3 gave Sarah Sadgrove and Katie Collis the courage to take on a business together.
In 2001, the pair had just returned from working overseas and spotted a gap in the market for designer bed linen - something upmarket, fashionable, less frilly and appealing not only to women but to men as well.
The resulting business, Thread Design, was born.
"Katie has a background in textile and fashion so she knew the sellers and manufacturers. We put together a range and went around shops and got orders made," says Sadgrove, who contributes marketing strength thanks to her commerce degree.
In recent times their venture has been hit by the recession, which badly affected many wholesale customers. One major setback was last year's receivership of the Eon Design Centre, which sold many products from New Zealand designers.
"Many of the little gorgeous boutique shops that you see are gone. And unfortunately, a lot of these shops stocked our products," Sadgrove says.
Considering the tough times, the launch of Thread's online shopping website in 2007 was fortuitous. The company had a website since it began, but Sadgrove says it wasn't until online shopping was added that overseas orders started to come in.
Thread now processes an average of five to 10 online orders per day and about 20 per cent of sales are made online. Overseas customers have come from Dubai, Australia, Britain and Singapore.
There are stockists in 16 New Zealand locations and one in Hong Kong, and the company hopes to establish a retail presence in Australia. Thread Design's own retail outlet in Grey Lynn, Auckland, opened at a particularly challenging time, in the midst of recession in May last year.
While the timing might have appeared unfortunate, the shop has allowed customers to see the products in the way the designers envisaged them being used.
"It's been really lovely since we opened the shop," says Sadgrove. "The merchandise is on the bed the way we'd like them to be merchandised. In shops that carry our products, we don't have a say in how they make up the beds." Thread's products include bed linen, lampshades and cushions, and there is a Thread Kids line catering to 2 to 14-year-olds.
Creating a business and raising five children between the two of them has been hard going, even at the best of times.
"When you are trying to raise a family as well as build a business, it is hard. You have to have very supportive partners to be able to do this," Sadgrove says.
The two have had to learn quickly on the job. One of the most important lessons was not to take a customer's word as gospel. "A deal's not done until it is done. People would say 'put your stuff here, and you will sell'. Don't believe it until it has happened," she says.
The ugly part of the experience is having to chase customers for money owed. The duo have also learned that marketing takes a real team effort.
Managing production is also a tricky business, particularly deciding how many of each item to make. "Trying to know what's popular - do you make 10 sets or not - really throws you out."
The two women, who started their business with $10,000 in capital, have never borrowed for the business. "We don't have loans, and have grown organically. We are quite proud of that." And, no they don't have rich husbands, she says.
Collis says one of the most rewarding aspects of the business is seeing happy customers who appreciate their product. She says the business has paid off, and has provided the two with a lifestyle choice.
The pair have maintained a conservative stance since the beginning. "We never paid ourselves and have never taken out much from the business. We always ploughed the money back into the business and thought taking a loan would be a bit of a vicious cycle," Sadgrove says.
The company is not contemplating manufacturing overseas. "That would really change our business model. We would have to work far in advance and we won't be able to offer such a big base [of products]. A lot of our money [would] be tied up in stock as we would have to make so many hundred units at a time.
"New Zealand is such a strong market for us. NZ-made is a very attractive concept for many of our customers."