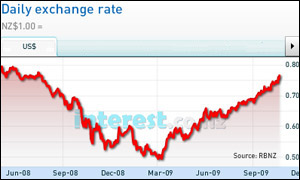 The New Zealand dollar has again set a new 15-month high this morning - the second time in a few days it has done so.
The kiwi has passed through the US76c mark.
By 8am the NZ dollar was buying US76.21c, having peaked an hour earlier at a 15-month high near US76.35c.
That follows its close of around US75c last night.
Support for the kiwi is being largely driven by a weak US dollar.
This morning on Radio Live, banking and finance commentator Bernard Hickey said it's not out of the question to contemplate the kiwi valued at dollar-for-dollar with the greenback one day soon.
"It will hurt exporters a lot - but this is great news for anyone thinking about buying a consumer product or planning that trip overseas", Hickey said.
"It's all because the American dollar is fast losing ground as an index currency."
The last time the kiwi hit 76 US cents was July 22 last year when it was trading at 76.11 US cents.
ANZ bank said momentum continued overnight after comments from Reserve Bank governor Alan Bollard that a higher NZ dollar was not necessarily an impediment to raising interest rates provided the kiwi with a "big kick" yesterday.
But ANZ said it appeared the market was reading too much into the comments.
"Rather than a sign that rate hikes are just around the corner, we suspect the comments are more an acknowledgement that the RBNZ can do little about the high levels of the kiwi, and with rate hikes already priced in, actually delivering one shouldn't actually impact the currency."
Overnight, the NZ dollar added to gains as recent sellers reversed their positions and "licked their wounds", ANZ said.
The NZ dollar peaked around 7am at a year-high 69.47 yen, and at a 17-month high 0.5075 euro. Against the Australian dollar the kiwi reached its highest level in nearly a fortnight at A81.92c.
The kiwi sunk against sterling overnight from the 46p level to around 45.30p but then made up just about all the lost ground. The trade weighted index was 67.89 at 8am from 67.09 at 5pm yesterday.
For those with long memories, the last time our currency was exactly equal in strength with the $USD, was way back in 1975.
For a brief while back then, we were actually stronger than the $US.
In August of that year, the buying and selling rates for the $US were US$1.2479 and US$1.2579, respectively, per $NZ1.
- NZHERALD STAFF, additional reporting by NZPA