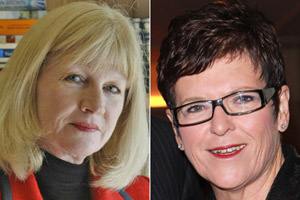 Dame Jenny Shipley and Joan Withers are two notable names among the list of new State Owned Enterprises board appointments announced by SOE Minister Simon Power today.
In all, there are 24 new appointments, reappointments and positional changes across 10 SOE boards and two airport boards.
"I am pleased to announce two new chairs to SOE boards. Dame Jenny Shipley has been appointed as chair of Genesis, and Joan Withers as chair of Mighty River Power," Power said.
"Since retiring from politics, Dame Jenny Shipley has enhanced her obvious leadership skills with a broad range of commercial governance experience, and I'm confident she will guide Genesis successfully through the next stages of its growth.
"She replaces Brian Corban, who has been a strong leader of Genesis for more than 10 years, and I thank him for his dedicated service during that time.
"The appointment of Ms Withers as chair of Mighty River Power ensures the continuity of strong commercial leadership for this company, and will build on the success of Carole Durbin.
"Ms Durbin has served on the board of Mighty River Power since late 1998, and has been chair since 2005. She has led Mighty River Power through demanding and challenging times, and helped build it into what it is today."
Four new deputy chairs have been also confirmed: Hon Dr Michael Cullen at NZ Post, John Ashby at AsureQuality, Janine Smith at Kordia, and Trevor Janes at Mighty River Power.
Serving chairs Rt Hon Jim Bolger at NZ Post and John Palmer at Solid Energy have been reappointed for 12 months each.
"This appointment process continues the work the National-led Government started earlier this year to bolster the commercial strength of all of the SOE boards," Power said.
"I'm delighted that some of New Zealand's most seasoned and successful commercial governance practitioners, along with an exciting mix of new talent, continue to agree to serve on these boards. I look forward to the contribution I am sure all will make to the commercial success of these critical assets.
"I'd also like to thank the retiring board members for their contribution, and wish them well in their future endeavours."
NEW SOE BOARD APPOINTMENTS
Susan Huria (Airways Corporation)
David Park (Airways Corporation)
Tony Briscoe (Airways Corporation)
John Ashby (AsureQuality Ltd)
Jane Lancaster (AsureQuality Ltd)
Sarah Herrod (AsureQuality Ltd)
George Gould (Christchurch International Airport Ltd)
Rt Hon Dame Jenny Shipley (Genesis Power Ltd)
Tommy Foggo (Invercargill Airport Ltd)
Janine Smith (Kordia Group Ltd)
Kenneth Benson (Kordia Group Ltd)
Rhoda Holmes (Kordia Group Ltd)
Arthur Baylis (Landcorp)
David Houldsworth (NZ Meteorological Service)
Joan Withers (Mighty River Power Ltd)
Trevor Janes (Mighty River Power Ltd)
Dr Michael Allen (Mighty River Power Ltd)
Jonathan Hartley (Mighty River Power Ltd)
Tania Simpson (Mighty River Power Ltd)
Rt Hon Jim Bolger (New Zealand Post Ltd)
Hon Dr Michael Cullen (New Zealand Post Ltd)
Murray Gribben (New Zealand Post Ltd)
Bryan Hemi (Quotable Value Ltd)
John Palmer (Solid Energy Ltd)