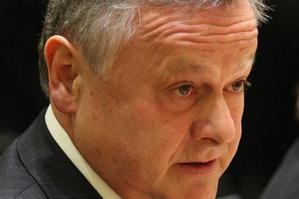 Woke up this morning to hear new ACC chair John Judge bleating on about the $4.5 billion loss the government-owned insurer has incurred.
Briefly thought about paying my levy early - as a gesture of goodwill and support - but then read the accounts and decided the ACC ship would stay afloat until the, inordinately large, annual contribution it demands from me falls due.
As the New Zealand Herald editorial noted in the wake of the panic: "Several questionable notions are behind the Government's doom-laden prognosis of ACC's future costs."
You can find those notions on page 36 of the ACC annual report as, after due actuarial process, over $5 billion was added to the scheme's "outstanding claims liability".
Page 35 contains quite a good explanation of how the actuaries came up with the number. I'm sure it all makes sense and was in full "accordance with the standards of the New Zealand Society of Actuaries Professional Standard No. 4:
General Insurance Business and New Zealand Equivalent to International Financial Reporting Standard 4: Insurance Contracts".
Page 124 expands on some of the updated assumptions used by the actuaries, which includes a change in projected hourly labour rates that bumped up the outstanding claims liability by $1.3 billion.
As with any half-decent actuarial projection, however, the ACC outstanding claims liability forecast comes with a rider: "The actual outcome is likely to range about this estimate and, like any such forecast, is subject to uncertainty."
I didn't hear the whole Judge interview so maybe he mentioned that. I also never heard him compliment the ACC investment team, which did a terrific job over the year in difficult circumstances.
With over $10 billion under management, the ACC investment pool is the second-largest in the country, behind the $14 billion New Zealand Superannuation Fund
The team, headed by Nicholas Bagnall, beat all its benchmarks and even made some money during the now-forgotten financial crisis, despite having almost $300 million or so tied up in some 'illiquid' mortgage-backed investments such as Property Finance Securities.
No doubt, ACC could do with some reining in but to portray it as a basket case is misleading.
But I still want to know how the ACC came up with the absurd figure on my invoice - what's so dangerous about my desktop? Mr Judge - I'll pay you next week.

David Chaplin
Photo / Mark Mitchell