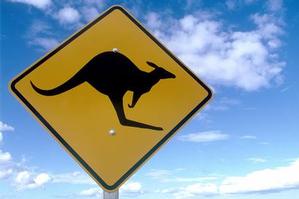 Australia's unemployment rate fell unexpectedly last month while the number of people employed rose, stoking bets the central bank will raise interest rates more aggressively.
The Australian dollar climbed above 90 US cents and the kiwi dollar jumped above 74 cents.
Australia's jobless rate eased to 5.7 per cent in September, from 5.8 per cent in August, according to the Australian Bureau of Statistics.
Unemployment was forecast to worsen to six-year high of 6 per cent, according to a Reuters survey. Australia added 40,600 jobs, against expectations for a decline on 10,000.
"The market's going to be pricing in rate hikes in Australia and will start to price in earlier hikes in New Zealand," said Tim Kelleher, vice president of institutional banking and markets at Commonwealth Bank of Australia.
"It's the lucky country indeed - it really was a big number."
The RBA surprised investors this week by becoming the first among Group of 20 nations to raise its benchmark interest rate amid signs the global financial crisis is abating.
Governor Glenn Stevens raised the cash rate a quarter point to 3.25 per cent and Kelleher said investors "are now pricing in four rate hikes over the next four meetings."
The Australian dollar surged to as much as 90.13 US cents, a 14-month high, from 89.28 cents immediately before the figures were released.
The New Zealand dollar jumped to as high as 74.19 US cents, a 14-month high, from 73.70.The kiwi dollar tumbled to 82.14 Australian cents, from 82.67 cents.
The RBA's move to raise rates on Tuesday sent ripples across the globe, helping contribute to a worldwide rally in stocks, as investors took the rate hike as a sign of an improving economic outlook.
In announcing the increase, Stevens said it is "now prudent to begin gradually lessening the stimulus provided by monetary policy."
Australia skirted recession with a combination of interest rates at a 50-year low, government spending initiatives and demand for the nation's raw materials in China, stoking speculation it was only a question of when the central bank would raise rates.
Stevens on Tuesday said prospects for Australia's Asian trading partners "appear to be noticeably better" than for most of the world's biggest economies, where the legacy of the financial crisis would restrain growth.
The improvement in the jobless rate comes after figures showed Australian job advertisements gained 4.4 per cent last month while data has shown consumer spending has been fuelled by government stimulus measures and the housing market has thawed.
Reserve Bank of New Zealand Governor Alan Bollard has said he won't raise the official cash rate from a record low 2.5 per cent until the second half of next year.
Still, a Credit Suisse Index based on the Overnight Index Swap curve shows traders are betting the RBNZ will lift rates by 150 basis points over the next 12 months.
New Zealand's economy climbed out of recession, chalking up 0.1 per cent growth, in the second quarter.
-BUSINESSWIRE