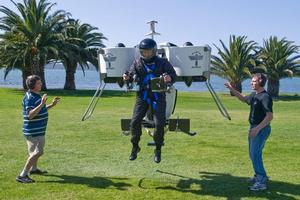 Glenn Martin
Founder, Martin Aircraft
The Martin Jetpack got its first public outing in New Zealand last month - but any tourists who happened to be visiting Waitangi that day probably had no idea what they were missing in the grounds of the Copthorne hotel. They might have wondered though, what the distant roar was.
It's fair to say that the demo at Morgo was little different to the one you can see on YouTube, which Australian chat show host Rove took the mickey out of on his TV show a year ago.
But the jetpack's inventor, Glenn Martin, insists there has been much progress since then.
To make the jetpack safer for novices to handle, the team at Martin Aircraft is developing an electronic system that will enable it to be programmed to fly "low and slow", and will also enable it to be remote controlled.
By April next year it hopes to launch indoor flights for tourists in Christchurch and is seeking a partner to franchise the business throughout New Zealand and eventually the world.
Martin originally imagined the jetpack would mostly be sold as a toy for multimillionaires. But he is now convinced it could have all sorts of uses, including demonstration teams, flight training schools, building maintenance and military use.
The company has already signed a heads of agreement with an overseas government. If the deal goes ahead it would mean supplying 500 jetpacks a year. But it would need to make them first.
While several overseas suitors have offered to help, Martin is adamant he wants to keep the company here. "Effectively to do that, we're going to have to find either Kiwi investors or Kiwi-centric investors who are happy for it to stay in New Zealand."
He hopes the company will eventually list on the stock exchange but in the meantime is courting several movie studios keen to use the jetpack in their filming, including the makers of Mission Impossible 4.
His wife describes the jetpack as a "celebrity" but after 28 years of working on it, the former biochemist admits that for him the novelty wore off a while ago.
The good news is that KPMG's estimate of what the company is now worth is around the $100 million mark.
There are still a lot of sceptics out there but Martin has developed a thick skin. "To be honest, it's far bigger in a way than I ever thought it would be. And far more advanced."