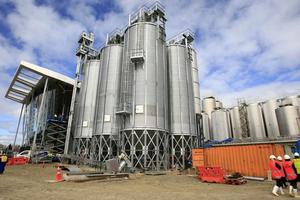 Alcoholic beverages business Lion Nathan starts brewing beer at its new national headquarters in a fortnight but its development project will not be finished until next year.
The 16.7ha East Tamaki site on Ormiston Rd in South Auckland is the location of Lion's new $250 million property base to replace its Newmarket home.
Two years ago, Lion announced the site's sale and Conor Collier of owners AMP Capital Investors said his business was working on plans for Newmarket.
"The industry in general is characterised by a more cautious approach given the current environment, which has inevitably slowed things down across the board.
For our part, the next step for the Lion Brewery project is rezoning the site and we now anticipate lodging our rezoning application within the next three to four months," he said in July.
Liz Read, Lion's corporate affairs director, said the business considered redeveloping its 5.2ha Khyber Pass site in Newmarket but found that this would require a significant investment to maintain future capability.
"We reviewed the potential constraints of staying where we are versus the opportunities of looking for a new site," she said.
The project to shift Lion's operations began in 2007 and Read said the big development included building a 4.5ha bottling plant which begins production next month.
The development is known to staff as both Project Century, in reference to the manufacturing and warehousing property's projected life span of about 100 years, or The Pride.
The site was used for farming so Lion's project is a greenfields one and Read said the buildings and operations had a strong environmental focus.
Energy use and greenhouse gas emissions will be cut by 10 per cent once the move is completed. Rainwater will be harvested from the roofs of the East Tamaki site, flow into storage tanks and be re-used for toilet flushing and irrigating gardens.
"It won't be used to make beer," Read said.
Lights will feature low-energy fittings, automatic clock controls, natural daylight sensors, dimmers and presence detectors.
One of the project's most unusual features is the use of crushed glass aggregate in construction to cut what Read refers to as New Zealand's glass mountain.
As part of Lion's responsibility to reduce, recycle and reuse the packaging associated with its products, crushed glass has been used and is now clearly visible on non-structural panels and paths, Read said.
Native plants are being used and even the amount of water needed in the beer is projected to be cut.
"Our Khyber Pass brewery is the second-most efficient brewery in the group for water use. At the new facility, we would expect to reduce water from 3.9 litres of water per litre of beer to 3 litres of water per litre of beer or less," Read said.
Duncan Field, Lion's group capital project leader, said tests were also being carried out to investigate the prospect of pumping water from under its site.
Read said glazing specialist Metro GlassTech had installed the glass panels on the brewhouse, the four-level building with a transparent front which showcases the brewery business. A two-storey Lion has been emblazoned on the 16m-high glazed facade of the brewhouse.
"The glaze was not sand blasted but has been digitally printed with a unique ceramic ink with Metro GlassTech's new GlassJet printer which is the first glass printer of its type in New Zealand," she said.
Read said the new property was expected to yield annual cost savings of $10 million to $12 million once the shift is completed, partly due to a reduced workforce because so much of the East Tamaki operations have been mechanised or automated.
Lion's New Zealand brands include Steinlager, Speight's, Mac's, Lion Red, Waikato Draught, Stella Artois, Corona, Guinness and Wither Hills.
Lion owns the Liquor King chair of stores and employs about 2400 people in New Zealand and Australia.
BIG BEER
Lion Nathan's new plant has:
* New buildings: More than 5ha.
* Earthworks: 180,000 cubic metres.
* Pipelines: 15km laid, 1.5km to go.
* Concrete: 8500 cubic metres complete, 5500 to go.
* 2500 tonnes used on site.
* Recycled glass: 2100 cubic metres or 3.5 tonnes.
Source: Duncan Field, Lion