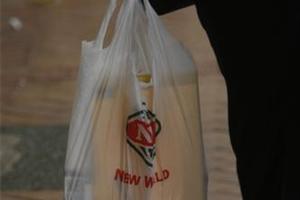 The commercial reality of a cut-throat supermarket environment has forced Foodstuffs Wellington to axe the compulsory plastic bag charge it introduced only four weeks ago.
From now on, the charge will be voluntary at the company's New World and Four Square stores, with few customers likely to choose to pay it.
It is a major backtrack for Foodstuffs, which trumpeted its "commitment" to the charge when it was mooted in May.
However, Foodstuffs Wellington managing director Tony McNeil said the company had to respond to customer complaints.
"Some people were refusing to pay it and deciding that they might want to shop elsewhere."
In the short time the compulsory scheme had been in place, participating supermarkets had reduced bag use by 50 per cent, or 40 million bags, McNeil told NZPA.
All the more reason to continue with it?
"It's still our policy to charge the 5c. But if somebody says they're not happy to pay it we don't want them walking away disgruntled so we're not going to charge them."
McNeil said tens of thousands of reusable bags had been sold at below cost and people were "getting the hang" of using them.
He believed this trend would continue, keeping plastic bag use down.
He did not know whether Foodstuffs customers in other parts of the country would resent the axing of the compulsory charge in the lower North Island.
It was up to the other two Foodstuffs companies to make their own decisions based on customer feedback, he said.
"An optional charge is a farce," said Sue Coutts, from the anti-plastic bag campaign group GetReal.
"The only people likely to pay are the ones that care enough to bring their own bags in the first place."
Coutts said Foodstuffs had been "trying to implement a scheme which should have been nationwide to begin with".
"With a lack of support from the Government, a lack of support from their industry organisation, and a lack of support from their competitors, they have been left in an awkward position," she told Radio New Zealand.
However, the policy backtrack was "pretty bad timing" for the company, as Keep New Zealand Beautiful clean-up week got under way on Friday, with New World a major sponsor, she said.
Both Foodstuffs and Progressive Enterprises signed the Packaging Accord in 2004 which set the goal of reducing plastic bag usage by 20 per cent, or 144 million bags, by 2009.
Figures released today show that the target had been exceeded, with a total reduction of 22 per cent, representing 157 million bags taken out of circulation.
Over half of the reduction was achieved in the past two years, as the campaign to involve shoppers gained traction, said Packaging Council executive director Paul Curtis.
"This is a major achievement."
- NZPA