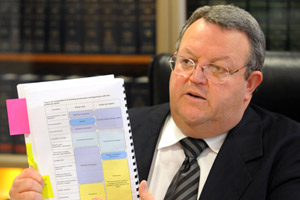 The prospect of allowing energy network companies back into electricity retailing has been raised in a new review into the energy sector released by the Government this morning.
Increased competition, better governance improvements and compensation payments to consumers asked to restrict power consumption are recommendations outlined in the review.
Energy and Resources Minister Gerry Brownlee said the review was an opportunity to address consumer concerns about rising power bills and security of supply.
Released for a five-week consultation period, it recommended governance improvements including replacing the Electricity Commission with an Electricity Market Authority.
It suggested allowing line companies back into retailing and arranging for compensation payments to be made to consumers if they face conservation campaigns.
Lines companies, since they have a monopoly on their powerlines are barred from retailing electricity, for fear they abuse market power on the network to unfairly compete with other retailers.
A reallocation of assets among state-owned enterprise generator-retailers to increase competition in wholesale and retail markets was also mooted.
Brownlee said the report, conducted by the Technical Advisory Group, with ministry assistance, was well written and offered practical solutions to many complex problems facing the electricity sector.
"The primary goal of the review is to tackle the steep price increase to the consumer power bill over the last ten years, and to examine ways to reduce vulnerability in dry years," he said.
"It is important to emphasise that this is a discussion document and my officials and I look forward to receiving feedback on the proposals before any final decisions are made."
However, Brownlee said the Government found many of the recommendations appealing - in particular the consumer compensation initiative.
"This idea really does create a big incentive for generators to manage their resource and ensure conservation campaigns are a last resort."
"If conservation measures are needed the consumer compensation will be an acknowledgement for inconvenience."
- NZPA
* A copy of the report can be found at the MED website.