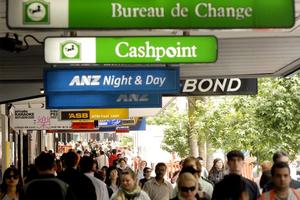 An expert in banking has rubbished a planned inquiry and says banks are being treated as scapegoats.
Massey University Centre for Banking Studies director David Tripe said the inquiry should not be taken seriously.
"Blaming banks is a sport that has been underway for a long time. You blame the banks for all sorts of things but who cares about facts? Banks are big and anonymous, they appear to have lots of money, so why not blame them if something is wrong?" said Tripe.
Parliament's left-leaning parties are holding an inquiry into banks' profits but the Government has already described it is a waste of time.
The new inquiry will look at the relationship between the official cash rate and short term interest rates.
Reserve Bank Governor Alan Bollard recently said some interest rates were too high and it would have been useful to hold an inquiry.
Government, ACT and Maori Party MPs on Parliament's finance and expenditure select committee blocked one from going ahead.
Tripe said he will not be making a submission because he is too busy and will not be taking any notice of the inquiry.
He said although the Reserve Bank have called for an inquiry, in this case they are "not up to the play".
He said there was no evidence that the banks were making big profits through the margins of interest.
Tripe said bank funding costs have not been affected by the change in the Reserve Bank's Official Cash Rate.
Finance Minister Bill English did not think the parties' inquiry would have much value.
"Look it's not a banking inquiry, it's a meeting of the Opposition," he told reporters.
"This discussion is more about politics than it is about the economy."
Prime Minister John Key said the issues were known and understood and an inquiry would not add to that.
"I don't think there is anything here that we don't know."
Banks believed their cost base has been increasing because of the way they fund themselves largely offshore, while the Reserve Bank thought fixed rates were at an appropriate level but floating rates could be reduced.
Key said if Bollard had ideas he wanted to hear them.
"...I put that challenge to the Reserve Bank, show us solutions and the Government will consider them.
"We have an impasse now. If there is something that should be done, let's act. We don't need another inquiry, let's do something about it. But to do something about it, we need some suggestions."
Labour leader Phil Goff said an inquiry was worth holding.
"It's not a farce and it's not a stunt. This is a serious inquiry into a serious issue," he told reporters.
Green co-leader Russel Norman said whether the inquiry was done by a select committee or another group, the main thing was to hold one.
"It's important to remember this is going to be the only real opportunity that the public of New Zealand have to engage in this debate because the Government's closed down the other avenues."
Select committees were able to make recommendations, but they were not binding.
"We're holding an inquiry which also won't be binding, but at least we will have the opportunity to have the public debate we really need to have."
A range of people including Bollard would be asked to present evidence.
Labour finance spokesman David Cunliffe said he had contacted Bollard about it, "and anticipate that he will want to take the steps (to do that)".
Bollard would need English's permission. A request had yet to be made, said English.
A spokesman for the Reserve Bank refused to comment.
Goff said he expected the Government would not want to stifle public debate and the banks had been invited.
"The banks will be very welcome to give evidence. Questions have been asked of them, this is a chance for them fairly to answer those questions in a public arena," said Goff.
Progressive MP Jim Anderton said banks should welcome an opportunity to put their side.
"If they don't, the public will be able to make up their own mind about what that means."
Anderton said overseas owned banks took $11.7 billion out of the country last year in interest and profits - more than GST for the year.
Farmers were one of the groups being hurt by high interest rates.
"Every 1 per cent of interest charged represents $450 million off the bottom line of New Zealand's farms."
Adding other industries, the cost would be about $1 billion to the economy, he said.
Interest on credit cards was higher in New Zealand than Australia despite Australia having a higher official cash rate - 3 per cent compared to 2.5 per cent here.
All parties would be invited to participate as well as organisations and businesses, including banks.
ANZ National said it would consider an invitation when it arrived.
- with NZPA