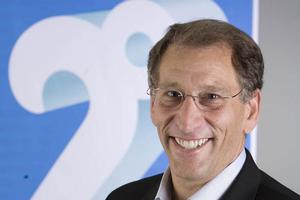 Newly minted 2degrees chief Eric Hertz spent one month cycling New Zealand's roads in the 1980s but he'll need a serious tail wind in his favour as he lines up against Telecom and Vodafone in the mobile market.
Hertz replaces chief executive Mike Reynolds, who is returning to the US after just a year at the helm to take up a new job with an unnamed company.
While Hertz admits it is a critical time for the business - 2degrees is weeks away from its yet-to-be-disclosed launch - the fact that he has known Reynolds for more than a decade will make for an easy handover.
"We know each other, we trust each other, we have similar styles, we have similar backgrounds from the telecoms space ... so I see it as a very easy and smooth transition," Hertz said.
He was approached by US investment company Trilogy, now the main shareholder in 2degrees after upping its stake from 26 per cent to 52 per cent this week, to take over from Reynolds.
Hertz has links with Trilogy's founders - John Stanton, Theresa Gillespie and Bradley Horwitz - who led Western Wireless during the four years he was the company's chief operating officer.
Hertz is clear he is reporting to the board as a whole and furthering the interests of all the investors.
Over his 32-year telco career, Hertz has been involved in everything from start-ups to running a multibillion-dollar business with 3000 staff.
"I like the early stages. It's just the most fun where you are creating, not only new services, but you're building a culture and a business," Hertz said. "I think quite honestly it's an addiction to the adrenaline."
Asked what he knew about the New Zealand telecommunications environment, Hertz said it was a rare opportunity to enter a market against two incumbents, entrenched in their respective markets.
"It's a little unique in that one's CDMA and one's GSM, so there's probably not a lot of movement back and forth between the two competitors," said Hertz, showing either disregard or lack of awareness of Telecom's highly touted GSM-based XT Network.
"I think that it is one of the few opportunities like this in the world, quite frankly, where we have this kind of opportunity to really shift the market." He downplayed scepticism 2degrees would struggle to make an impact in a market where mobile penetration is over 100 per cent.
"I would challenge that premise that we're going after 100 per cent penetration," said Hertz.
He said the growth in wireless devices, from Amazon's Kindle reader through to technology advances in healthcare, would see mobile penetration hit 500 per cent.
"You are going to have multiple devices that talk to the wireless networks around you," Hertz said.
While he said 2degrees would not be offering anything more than the tradition mobile services of voice, text and data when the network launches next month, the company would look to increase its range of offers as capital became available.
"This is a marathon, not a sprint."
Hertz will shortly return to his home base in Washington state before he returns at the end of July to work with Reynolds until the network goes live.
ERIC HERTZ
CHIEF EXECUTIVE, 2DEGREES
* Aged 54.
* Married to Kathy, who will join him in New Zealand.
* 21-year-old daughter Ari will remain at university in the US.
* 30 years' telco experience, including senior roles at Western Wireless, BellSouth, McCaw Cellular and AT&T Wireless.
* Most recently at Zumobi, a mobile phone application developer.
* MBA from University of Pennsylvania Wharton School, bachelor of science from Worcester Polytechnic Institute, Massachusetts.
* Spent a month cycling around New Zealand with his wife in 1984.
* Interests include tramping and flying.