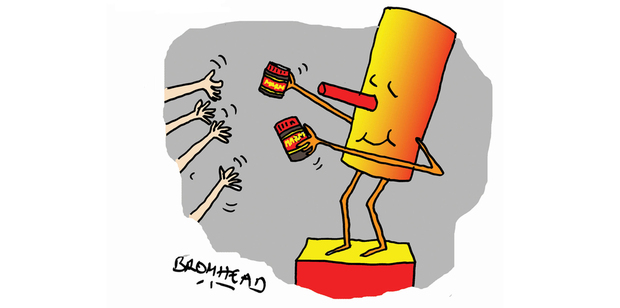 When Benito Mussolini invaded Abyssinia in 1935, my grandmother prudently began re-stocking her larder.
With the League of Nations unable to contain the emerging Fascists, she was convinced that war in Europe was inevitable and started preparing the household for the conflict ahead.
By the time Britain declared war with Germany in 1939, her cottage cupboards were brimming with preserved and canned delicacies. She had also persuaded my grandfather to build an air raid shelter in the garden, believing the dastardly Germans would return in their Zeppelins, having seen them over London in World War I.
Unfortunately, the dugout shelter flooded the first time it rained, creating a permanent lake. Luckily, air attacks were rare in rural Lincolnshire, so my ancestors never had to make the choice between being blown up or drowning underground.
However, thanks to my grandmother's foresight, the family celebrated the end of World War II in style, opening cans of pre-war peaches accompanied with tinned clotted cream.
Her habits left an indelible impression, so it was not surprising that I followed her lead last year, surmising there were likely to be serious inconveniences after the Christchurch earthquake.
For example, when I learned that structural damage to a cooling tower on a factory site had rendered the nearby Marmite manufacturing plant unsafe, I swiftly stocked up.
I listened to former All Black coach Sir Graham Henry's laconic reassurance that the product would soon be back on the shelves with the same scepticism my grandmother displayed when Neville Chamberlain returned from Munich, declaring "peace in our time".
I could only smirk when a Sanitarium representative later confessed the company was no closer to knowing when production would re-commence, as engineers had unearthed further damage to the structures where production is based.
Not a worry to me, as I have enough supply to last me to 2014.
So, what's so special about Marmite? The truth is, yeasty concoctions all taste the same and I don't really care what I spread on my toast. So why bother hoarding?
Well, there is a certain gloating satisfaction in having a stash of anything desirable, thanks to foresight, as it presents the opportunity to piously indulge in small acts of benign benevolence with those desperate for the stuff.
I only wish it was '82 Margaux.