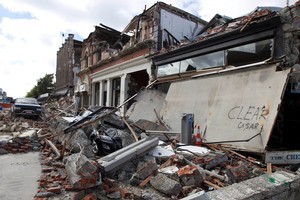 Those of us involved in the building industry are well aware that it is in crisis. With issued building consents running at less than 50 per cent of their peak - March consents were the lowest since 1982 - and delays in work coming through in Christchurch, companies in the industry are being hammered.
The evidence for just how badly the recession has hurt the sector can be seen in the Department of Statistics Business Demographics report that showed 2600 construction businesses had ceased trading in the year to February 2010. There must have been at least that many in the year since.
Skilled builders have flocked to Australia and with a combination of a lack of apprentices because of policies instituted by successive governments and older builders retiring through reluctance to become licensed, we have a severely depleted workforce. This is fine while there is a shortage of work, but forecasts are that this is set to change.
Reconstruction of Christchurch is expected to cost between $15 billion and $20 billion and take up to 10 years. The leaky home crisis is acknowledged by the Government at $11.5 billion but is likely to be at least twice that and perhaps as much as three times that estimate. Branz has identified $2.5 billion worth of remedial work needed on homes built between 1940 and 1970.
This work is over and above normal demand for new houses and renovations. That demand has been running at below replacement for at least three years now (estimated at 20,000 to 22,000 homes per year by Registered Master Builders and Certified Builders among others), leading to a housing shortage - particularly acute in Auckland.
So, we have a growing demand for building work but a growing shortage of builders. Homeowners wanting to start building projects will face delays and increases in costs. This is, unfortunately, further compounded by the introduction of builder licensing - voluntary at the moment and mandatory by the end of March next year.
Many of us applaud the introduction of a system to upskill our building trades. However the introduction is running behind schedule and only 7000 builders had become licensed as of March 2011 on a target of 20,000 by March next year. The Department of Building and Housing has to license more than 1000 builders a month to hit its target. Unlicensed builders will still be able to work but their work will need to be signed off by a licensed builder - adding costs and delays. Regrettably, the news just gets worse.
The Government has introduced a bill to Parliament that reduces compliance requirements in the building industry as a way to reduce costs. This is laudable given that our building costs are 30 per cent higher than those in Australia.
Included in the proposed legislation is a transfer of responsibility from our building consent authorities (usually councils) to homeowners and the industry in order to prevent a similar situation arising to that we now face in the leaky home crisis, where local bodies are ending up as the "last man standing" with claims.
Unfortunately, while there is an acknowledged need to educate homeowners on the complexities of building so they are better able to shoulder greater responsibility in the building process, there is a distinct lack of effort from the Government in this area. If you look at this confluence of trends we see:
-A severe shortage of skilled staff.
-A coming surge of work.
-A loosening of regulations.
A lack of knowledge among homeowners and lack of effort in educating them. These are the same circumstances (albeit without a recent approval of specific building products subsequently found to be unsuitable for use) that led to the leaky homes crisis that is still yet to be adequately dealt with.
There have been suggestions of importing 12,500 builders from the Philippines or Indonesia or both. While these tradesmen may be adequately skilled, how on earth will we be able to qualify all these builders coming in, and it is extremely unlikely they will become licensed for some time.
Frankly, without a serious approach from the Government and industry to educate homeowners we will end up in a boom with dodgy builders looking to make a quick buck at the expense of a poorly prepared consumer market. It would seem we have learned nothing from the leaky home crisis.
Mark Graham runs the website www.buildingguide.co.nz