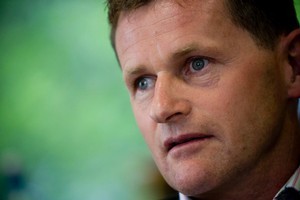 The Serious Fraud Office's budget has been doubled to $15 million as it takes its complex and long-running Hanover and South Canterbury Finance investigations into the new financial year and looks to complete other "legacy" investigations.
Police Minister Judith Collins, who also oversees the SFO, announced in last week's Budget that the white-collar crime fighting unit would get $8.3 million extra over two years.
Chief executive Adam Feeley told the Herald a fraction of that extra cash had been allocated for the financial year about to end, and the bulk of it would be available for the next year.
That was an increase of about 100 per cent to the office's budget.
"We were $7.47 million last year and it's $15 million this year. In practical terms we've got $7.5 million extra."
The scale of rise was not immediately apparent in Budget documents because of the accounting treatment of an onerous lease arrangement relating to the SFO's previous headquarters.
Mr Feeley said that in light of the economic climate, the the SFO was pleased to receive the extra cash.
"Hopefully it's a reflection of the office doing good work and the Government recognising the law-enforcement priorities around white-collar crime".
Previous budget allocations meant the SFO had to limit the number of cases it investigated.
"Having these additional resources including staff, we can not only continue to move cases more quickly, we can continue to do more cases, and that's where the pinch had come in recent months," Mr Feeley said.
In the past year the office's number of active investigations had fallen to 20 but it was now about 30.
"Next year I envisage those cases will be between 30 and 40 maybe even 45."
Mr Feeley said that in past two years, the SFO had largely cleared a backlog of "legacy" cases and with one exception all of its cases were now less than 12 months old "and we want to maintain that".
"The clear goal both for us and the Financial Markets Authority is to tidy up that legacy," he said.
With the likely exception of Hanover and South Canterbury, "you can expect to see some decisions in the next couple of months around most of the finance companies".
Investigations into South Canterbury and Hanover would continue into new financial year. The SFO also had about 25 cases ready for prosecution, with the investigations complete.
"We've got a case that we'll probably be making a public comment on in the next few days and it's the kind of case I'd like to think the public have been expecting an early response on rather than it taking six to 12 months."
Mr Feeley said the case related to "a person and a company fairly well known to business journalists".