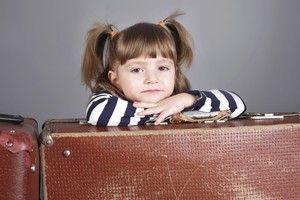 It depresses me to think that inevitably, one if not all of my children will make their futures offshore.

If New Zealand does not change course and grow its economy in a true and sustainable way in the next decade, we can kiss our children and grandchildren goodbye and simply hope we have the kind of money that allows us to visit them in far more vibrant markets offshore where their talents and education will provide a genuine pay-off.

My husband and I are the last children in each of our respective families to have stayed in New Zealand, so we know a little of what we speak.
Our brothers and sisters have lived around the world but settled in Australia, where they simply seem to have more opportunity (if not always more actual money). There are options there for working people that just don't exist here, and the differences and stark and painful.

Nevertheless, I don't feel I am doing the children a disservice staying here at the moment, despite the fact both my husband and I have passports to other, more thriving economies.
From what I can gather, the life of young children in New Zealand (on average) is as enjoyable as it is anywhere else. The problem is that children grow up, and inevitably look over the seas for something better.

I know it is not the done thing to hope your children stay around you. We must even pretend that if they are exploring oil reserves off the coast of Venezuela or mining Western Australia, or even teaching English in Laos, that it's a fantastic opportunity for them. Which it may well be. But if we're honest, we're not pouring love and care into our families for them to take off to the other side of the world permanently as soon as they leave Year 12.

It is in all of our interests - young or old, with children or without - to want the next generations to find New Zealand a worthwhile place to bring their own families up.
It doesn't mean they shouldn't want to travel and roam and sample the delights of living overseas, but simply that New Zealand will still be a lure for a majority of them when they've fulfilled their wanderlust.

Whether we want the loving embrace of eventual grandchildren - or just the requisite number of taxpayers so we can have a comfortable old age - we need to be united in this goal.

Which is why to me, the Budget is another disappointment, a lost opportunity to really throw out some dynamic solutions to our problems. It's not just the Government either - the opposition's ideas are hardly more exciting or inspiring.

As for John Key's proposals: I for one can not get my head around the idea that selling our utilities will provide us a comfortable future for one thing. This move, simply put, doesn't enrich New Zealanders. It actually has the potential to strip more capital away from a country sorely in need. If this is the best idea our leading minds in Parliament can come up with, that's pretty sad.

There may be a case for stripping back benefits and other tax advantages, but unless incomes for working people become healthier, it's not going to do us any favours in the long term.

I personally would love to see the Government enter more partnerships with emerging industries that, picked with enough forethought, might provide career pathways to young Kiwis. Then ensure universities are encouraged to train enough scientists / IT experts / specialist teachers to help bolster these industries.
Yes, it's the Government picking winners - but surely the Government has at its disposal enough intelligence - the type you pay for, obviously - to make this work?

And as for Labour's ideas: A ministry for children? To me this seems like a way of marginalising children's concerns, not bolstering them. We have a problem in this country with a segment of deadbeat parents who simply don't do their jobs. Will a ministry for children address this issue? Probably not.
What I would like to see is lots of support for young children and their families through the early years, and stricter penalties for not doing the right thing by your children, period. Ensuring they at least grow up with a basic level of nutrition, education and opportunity.

Why does this seem so impossible for our country with a tiny population?

Okay, I'm no economist, or even someone with the brainpower to come up with a half-decent solution to New Zealand's economic woes. But I think it would be a worthwhile investment to pay those people to come up with some really innovative proposals - and then act on them. Act on them over a number of years, without letting politics or public sentiment sway the course.

For the sake of all of us that would at least like some of our children and grandchildren closer to us than Azerbaijan or even Perth, it would be a wonderful initial goal worth pursuing.