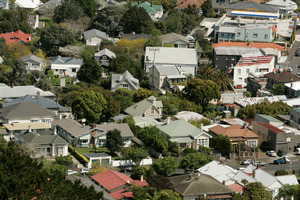 The Productivity Commission failed to come up with any practical solutions to the housing affordability crisis in its April report, and neither has Finance Minister Bill English in his response to the commission's recommendations.
Like the commission, Mr English takes a few pokes at the Resource Management Act, at local council delays, at the high price of land and building, and at Auckland's metropolitan urban limits, then walks away.
He offers no practical solutions to ending the rapid decline in the number of Kiwi families owning their homes - down from about 75 per cent in the early 1990s, to around 65 per cent and falling.
It's as though the market has failed to deliver this core tenet of National Party faith, and so the party does not know what to do. Or perhaps it does know what to do, but it goes so against the ideological grain that it can't bring themselves to embrace it.
Lurking among the commission's recommendations was that the Auckland Council should "look to collaborative models for the process of identifying, assembling and releasing large-scale tracts of land". Commonsense sort of advice if you want to develop areas in a co-ordinated and planned way.
Mr English agrees. In his statement after Monday's Cabinet meeting, he noted the council had committed "to investigate increased use of special-purpose agencies, such as urban development authorities, to undertake planning and implementation of housing developments".
He said both Auckland Council Properties and the Government, through such initiatives as the Tamaki Transformation Project, were involved in such initiatives which "will be important pilots for wider application of this type of development model".
He could have added the 3000-house Hobsonville Land Company development on the old airbase in Prime Minister John Key's electorate, except it's rather an embarrassment to the Government. Launched under the previous Labour Government, Housing New Zealand's showpiece of urban redevelopment was to include 500 "affordable" self-owned homes and 500 state rentals.
Unfortunately, introducing "poor" people didn't go down well with local National voters, and Mr Key went on the campaign trail in 2006 declaring pepper-potting state housing into the Hobsonville model village would be "economic vandalism", and would be wiped from the scheme under National. It was.
In response to Mr English, Mayor Len Brown agreed the housing market had failed to deliver, and called for the Government and councils to work with developers, the banks, the building industry and other players in the market "to find long-term solutions".
In Auckland, there's the added complication of persuading people to consider the option of "intensified housing".
If our leaders delved back, they'd find a historic blueprint of such a successful collaboration in what is now the highly desirable inner suburb of Freemans Bay, which shows what a public body with the courage of its convictions can do.
Freemans Bay was what we now refer to as a "brownfields site", rat-infested old workers cottages then considered good for nothing but demolition.
It was the late 1960s and Auckland City failed to persuade any private developers to build a compact, "terrace-like" village on the former slum. Ao the council became the developers, the city's architectural division designing two- or three-bedroom dwellings which group home builder Keith Hay was contracted to build.
It was promoted as "introducing a new and sophisticated concept of urban living to Auckland". The homes sold off the plans in 1969 on 99-year leases for $12,900 and $14,100. They were fetching more than $900,000 when I last checked, in January. They became an an example for more timid private developers to follow.
Auckland needs 10,000 new houses a year for the next decade. It's producing around 4000 a year. There is land available. But much of it is locked up in "land banks", held both by rich developers and by mum and dad investors, all biding their time.
Look at the real estate advertisements. "Land bank" seem to be the key words in most urban fringe property sales blurbs.
Auckland Council's priority is intensified housing. For first-time shoppers, the big issue is affordability. Neither are priorities that appeal to "the market". As the commission observed in its April report, "high section prices may also explain why new housing is concentrated at the top end of the market - who is going to put a $150,000 home on a $300,000 section?"
The commission believed that by expanding/removing the metropolitan urban limits land prices would fall. Of course it might just trigger another round of land-banking speculation. It would also encourage further sprawl, which adds extra infrastructure costs to the mix.
The alternative is for the Auckland Council or the Government to play the market at its own game. Do some land-banking. Develop affordable, intensive housing, Then let the market catch up. As happened in Freemans Bay.