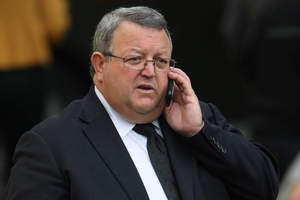 Think twice about going to a party at Gerry Brownlee's place. He might make you pay for the drinks. On Wednesday the Transport Minister joined New Zealand Transport Agency bosses to pat each other on the back about the record $12.3 billion investment in transport they are planning over the next three years, $3.4 billion of that in Auckland.
They highlighted the $1.74 billion spend on public transport as a 21 per cent increase on the previous three-year period, and the $4.1 billion investment in local roads as a 14 per cent increase. What failed to appear in Mr Brownlee's press release, and got only an oblique reference in the NZTA statement, was that $2.6 billion of that cash didn't come from fuel taxes and road user charges, but from local ratepayers.
In Auckland's case, of the $3.37 billion Mr Brownlee plans to invest, $816 million comes from Auckland Council.
When this shared funding is taken into account, the Government's claimed love affair with public transport - support up 21 per cent, according to NZTA - suddenly looks rather weak. Of the $802 million expenditure highlighted for Auckland public transport, nearly half ($365 million) comes from ratepayers.
As for building and maintaining local Auckland roads, it's almost a dead heat, with NZTA paying $301 million and Auckland Council $295 million.
Wading through the small print, it quickly emerges that expenditure on vital public transport infrastructure over the next three years nationally will be a miserable $115 million, a 31 per cent drop on the previous three years. What enables NZTA to claim a 21 per cent increase in public transport spending is they've combined this low infrastructure spend with a 35 per cent increase in payments for public transport "services". This $830 million covers investment in new rolling stock, "and increased track access charges", the latter being the Government's way of gouging more money out of Auckland ratepayers for the hire of the public railroads we need to run our trains on.
What's worse, Aucklanders have been dorked again. Despite talk of Auckland doing well out of the new transport budget, the truth is we've been short-changed. Again. As the home of roughly one-third of New Zealanders, and the payers of at least 33 per cent of central taxes and petrol imposts, the $2.6 billion of NZTA cash to be spent in Auckland represents 28 per cent of NZTA's funding. On a per capita basis, we should be getting another $500 million at least.
But what's new. In 1991, after an earlier battle for a light rail service, regional councillors calculated that Aucklanders then paid $150 million a year in fuel taxes but only got $84 million back in central transport funding. More recently, Green Party researchers have calculated that in the 15 years to 2005, Aucklanders paid $7.022 billion in fuel taxes and the like but only got back $3.222 billion in transport-related expenditure - less than half what they put in.
In the past year or two of the Clark Labour Government, government transport funding finally started to match Auckland's contribution. This week's proposal is a retreat to the short-changing of past years. It is also a refusal to accept the Government's own evidence showing that Aucklanders - and New Zealanders - want a greater emphasis on public transport.
The big ticket item is once again the maintenance and building of state highways. Together that comes to just over $5 billion. That's more than five times the public transport spend. This despite NZTA graphs, based on more than 100 survey points across the highway network, showing that motorway traffic has plateaued. NZTA's own gurus have discovered motorway traffic peaked around 2003 after steadily climbing since the monitoring began in 1989. A year or two later, heavy traffic followed suit.
The transport gurus fuss about peak oil. In New Zealand we seem to be experiencing peak traffic. Demand has peaked. Not that the Government wants to know. In Auckland there's also a regeneration of public transport, with annual patronage increasing by about 20 million in the past six years to 71 million - the second 10 million leaping aboard over the past two years.
When will our masters in Wellington notice?