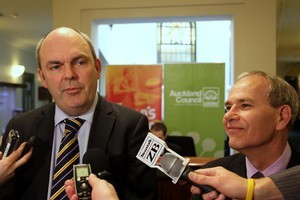 Mayor Len Brown and his New Zealand Transport Agency mates must have some inside intelligence of voter intentions the rest of the political world has totally missed. They flew off to China last night to window-shop for, among other big ticket items, tunnelling machines capable of building the mayor's fabled inner-city rail loop.
It's as though they'd forgotten there's an election in two weeks and the National Government which gave Mr Brown's underground rail loop the big thumbs down is widely expected to be returned in a landslide victory.
The good news is the NZTA is picking up at least some of the travel bill. Whether Minister of Transport Steven Joyce will be happy with his bureaucrats for giving Mr Brown a platform to push his pet project in the middle of an election campaign is more doubtful. For promote it the mayor did, as he flew off into the unknown, declaring: "Auckland Council has identified key transport infrastructure projects which are critical to Auckland's development ...
"Amongst these are two significant underground projects, including the city rail link, which will open up a congested rail network and provide a fully integrated public transport system and an additional harbour crossing ..."
China, he said, "is a world leader in tunnelling technology and is developing new approaches to building urban tunnels which could save millions of dollars on major projects."
While Auckland commuters await Mr Brown's triumphant return, Auckland Transport has tossed them a promise of more immediate transport treats to come. NZ Post and Australian smartcard developers Placard have been contracted to oversee the full rollout of the Hop "integrated smartcards". Starting from mid-2012, Auckland commuters will swap their existing Hop cards for new ones that work not just on New Zealand Bus services as at present, but also on trains, ferries and other bus brands.
The rollout will be preceded by "an extended field trial ... utilising selected users" which does make one a little nervous. The existing smartcard service was rolled out in May and after a few teething hiccups - one colleague is still complaining about how his split in two and he had to pay $10 for a new one - has performed okay.
We were assured at the time that the Thales system was a world-tested, off-the-shelf system. To require an extended trial may be "international best practice" but for a basic swipe-card system it seems a tad timorous.
Auckland Transport's announcement calls the new card an "integrated smartcard," which is, as I've observed before, rather gilding the lily. The service is hardly all that smart, nor very integrated. It's just an electronic cash substitute that can deduct a fare from your card.
The fully integrated transport system we've been waiting so long for is still frustratingly far off. Especially the fares side. A fully integrated system would include a zonal charging system where passengers were levied for the distance travelled regardless of changes of transport mode on the way.
Even when the new "integrated card" comes in, swapping from bus to train, for example, will incur a new fare.
In a letter to transport committee chairman Mike Lee in August, Mark Lambert, Auckland Transport's manager, public transport operations, outlined how the organisation planned to implement the "integrated public transport network" model over the next three or four years. He painted a four-tiered network of routes, the backbone being a rapid transit network of electrified rail and dedicated busways, interlinked with a secondary grid of bus services.
But absent in this three to four-year plan is any mention of a simplified fare system. One that doesn't punish the commuter for changing modes mid-journey. The new $87 million "integrated ticketing system" is capable of doing these calculations. When will it be asked to is the question. Hopefully before the underground rail loop.