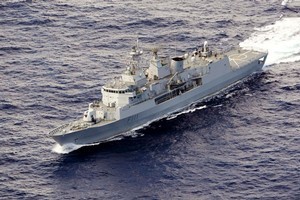 If mayor Len Brown really wants to guarantee his promise that the fireworks display planned for the opening of the Rugby World Cup 2011 will be "an unforgettable show", there is a way. All he need do is leg it over the fence of the navy's Kauri Point ammunition store and light the nearest available fuse. Then stand back and wow a worldwide television audience with the biggest display of pyrotechnics Auckland has seen since Rangitoto erupted.
If the recent break-in at Kauri Point is any guide - as long as the mayor avoids office hours - no alarms are likely to ring, nor any guard leap up and cry "who goes there?"
That New Zealand's main armed force ammunition depot nestles on an inner harbour cliff face in the middle of our largest city has always seemed, shall we say, foolhardy. But the way the armed forces and successive governments treat it with such casual neglect is plain scary.
Last week, a 25-year-old man appeared in the North Shore Court following a break-in the previous weekend at the depot.
Though the depot bosses claim to have someone "on duty" around the clock, it wasn't until the following Monday morning that ammunition, smoke bombs and other military pyrotechnics were found missing.
Despite the evidence to the contrary, Navy logistics commander Captain David Proctor then insisted, through NZPA, that "the facility at Kauri Point is safe, I wish to assure the public of that". He then pleaded that "anyone who found any of the stolen pyrotechnics should call police".
As unconvincing assurances go, that one must be up with President Clinton's claim not to have had sex with "that woman". How can he claim it's safe after someone has walked in off the street, pocketed a private arsenal, then walked out again unchallenged.
In 1936, when it was originally established as the country's only designated seaport of arrival for explosives, Kauri Point, up harbour from the Chelsea Sugar Refinery, was well out in the sticks. These days, suburbia has spread all around it - on both sides of the harbour.
Alarmingly, a Defence Ministry report revealed in April 2008 that little or nothing had been done on upkeeping the facilities since they were established half a century earlier. Only two of 41 explosive stores were in good condition. The perimeter security fence was in a poor state. It said $120,000 worth of naval shells had just been written off because of water damage from a leaking roof. The navy had investigated installing closed-circuit alarms, but there was no money for it, let alone repairing the perimeter fencing.
In response, then Opposition MPs for the North Shore Dr Wayne Mapp and Dr Jonathan Coleman tut-tutted their concern and demanded an independent report into the possibility of moving the ammunition dump to Whangaparaoa, before "several million dollars worth of long-term expenditure" was spent bringing Kauri Point up to a safe standard. No doubt with the upcoming 2008 election in mind, they argued that shifting the base "will enable a comprehensive coastal regional park from Chelsea to Beachhaven".
A few months later, Dr Mapp became Minister of Defence, and Kauri Point quietly disappeared off his radar. He eventually told The Aucklander last year that the cost of the move would be "prohibitive" and there was no practical alternative location. The navy argues the Hauraki Gulf off Whangaparaoa is so shallow a 500m pier would be required, which would be exposed to the elements and not provide that stable platform needed for transferring munitions.
As for the dodgy state of the existing Kauri Point facilities, Dr Mapp said in December he had directed the Chief of Defence Force to prepare to build "much more safe and secure" facilities.
In January this year, retiring Chief of Defence Force Lieutenant General Jerry Mateparae insisted that both the Kauri Point and existing Whangaparaoa munition stores "remain fit for purpose and do meet public safety expectations". That, he said, while admitting there had been past security lapses leaving the whole site without alarms and that an unspecified number of storage facilities lacked alarms.
Just over a week ago, the security system once again failed to meet public safety expectations. This, of course, raises the concern that if these assurances can't be relied on, what guarantee can we have that a mis-handling error or a break-in by a determined terrorist won't have disastrous consequences.