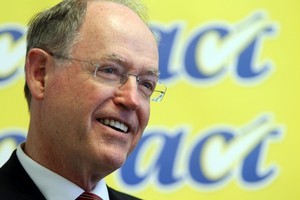 The Labour Party is lurching between being sad and being mad about the Act-National Party jiggery-pokery going on in the Epsom electorate. Why doesn't it just concentrate on getting even and trying to beat their right-wing opponents at their own game?
Labour is never going to win this Tory stronghold, but what it might fluke is to ankle-tap Act candidate John Banks' bid for the electorate vote.
This would abort his mission, which is to drag party leader Don Brash and possibly three or four fellow-travellers into Parliament on his coat-tails.
How would Labour do this? By persuading supporters to grit their teeth and support the National fall-guy, Paul Goldsmith instead of their own, yet to be announced, candidate.
Labour tried this in a half-hearted and undisciplined way in 2005 and 2008 and failed, letting Act's Rodney Hide save his little group from oblivion.
Labour campaign spokesman Grant Robertson calls the selection of Mr Banks' friend and biographer Paul Goldsmith as National's candidate "a laughable stitch-up", which no doubt it is. But it's not something he should be getting too precious about. Labour pioneered the same sort of gaming of the MMP system from its earliest days.
In 1999, for instance, Labour leader Helen Clark tossed her Coromandel candidate Margaret Hawkesworth overboard in the dying stages of the campaign, telling Labour supporters to vote for Green Party leader, Jeanette Fitzsimons, instead. This was to ensure she defeated the sitting National MP, and brought several Green list MPs into Parliament in her slipstream as potential allies for Clark.
Ms Fitzsimons won, though Labour's pre-election manoeuvrings ultimately proved unnecessary. Just. The Greens scored 5.16 per cent of the party vote, entitling them to six seats, and raising them a whisker above the 5 per cent threshold that has dogged Act for the past two elections.
Current polling suggests Act will be dicing with oblivion again in a few months. MMP regulations require a party receives at least 5 per cent of the party vote to gain parliamentary representation. But if a candidate wins an electorate seat, then his or her party gains percentage-based representation regardless.
In 2005, Mr Hide, with National's help, won the Epsom seat and because his party got 1.51 per cent of the national vote, a buddy MP to keep him company. In 2008, he held the seat and with 3.65 per cent of the national party vote dragged in four list MPs.
As in Coromandel, voters in Epsom were happy to play the game. In Coromandel, Ms Fitzsimons received 13,682 votes (39.98 per cent of the candidate vote), but her party got only 2640 (7.65 per cent.) Labour's candidate got 3892 votes (11.37 per cent), but the party scored 12,390 (35.88 per cent). In other words, Labour supporters took their leader's nod, and gave the Green leader a huge winning nudge.
In Epsom in 2005, Act received a miserable 1237 party votes, but Rodney Hide scored a winning 15,251 votes.
The National Party vote was 21,310, but its candidate Richard Worth got only 12,149. Labour candidate Stuart Nash's vote was 6138, his party got 9915.
Three years later, Act got 2389 and Mr Hide, 21,102. His support party National, got 24,030, and its candidate, a miserable 8220. Labour's Kate Sutton was on 5112, her party on 7711.
It's clear that voters on the right got the nudge and the wink from National and Act leaders, and voted strategically.
There was no such discipline on the left. In 2005 it wasn't until the final stages of the campaign that Helen Clark made it clear to her Epsom troops they should be telling supporters to cast their electorate vote in favour of National's Dr Worth, the reasoning being that if National won the seat, Act would be out of Parliament.
Combining Dr Worth's 12,149 with Mr Nash's 6138 would have been a winning result, but many Labour activists were appalled at such realpolitik. Mr Nash recalls being booed at some meetings when he suggested the possibility.
In 2008, Ms Sutton resisted nudges from party headquarters to try again. Three years on, the option is still there - Labour billboards promoting National's Mr Goldsmith in an attempt to sink Act.
What entertainment that would be. Though perhaps not the best advertisement for MMP in the midst of a referendum on its fate.