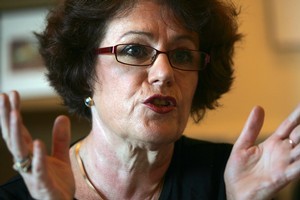 Revenge, it is said, is a dish best served cold. And in the hands of chef Judith Tizard, it is cooked with much slow stirring of the pot.
There's been much tut-tutting from the commentariat, and from her friends, about the former Labour minister refusing to confirm or deny whether she'll take up her rightful list seat in Parliament - the spot made vacant following Labour front-bencher Darren Hughes' nocturnal high jinks.
With an election in November, a new candidate already selected for her old Auckland Central seat and clear signals from her former colleagues that she's not wanted, the question is, why on earth would she return?
On television she referred to "unfinished business", but when pushed the only thing she came up with was she hadn't had a chance to make a valedictory speech in Parliament after her defeat in the 2008 general election. Hardly the most compelling reason for rushing back to Wellington, one would have thought.
A departure without goodbyes is the fate of all defeated MPs. She also quipped that her mother, former governor-general Dame Cath, had threatened never to speak to her again if she did, which, she said, made the return a tempting prospect.
We in the press couldn't resist also pointing out that popping back to Parliament for six months would be a good little earner, adding $162,265 to her bank account when you add expenses and the three-month redundancy handout all departing MPs receive.
But it's primarily about pay back. Utu. A two-fingered gesture to all those in the party and the media who have mocked her role as "Helen Clark's handbag", particularly since the former prime minister's departure to fresh fields after the 2008 election defeat left her to her own devices.
She has admitted as much, saying it would be nice to say "stick it up you" to her critics. It's maybe not the most edifying reason for wanting to return to Parliament, but a rather human one for all that.
Since the election, Ms Tizard has been hovering at the top of Labour's official reserve list, by law the chosen replacement for any list MP who falls by the wayside before this year's election. But the put-downs began soon after Helen Clark signalled her intention to vacate her Mt Albert seat. Local resident and list MP Phil Twyford seemed a likely replacement. Then came talk of the "Tizard bomb". If Mr Twyford stood and won the electorate seat his place on the list would be empty, and who was next in the queue but Ms Tizard.
When Winnie Laban resigned from Parliament in August last year, the party decided not to pick a list MP for the same reason. When Shane Jones was caught out watching porn at taxpayers' expense, the word went out that he wouldn't be sacked because - you guessed it - Ms Tizard was looming in the wings.
Is it any surprise that her weekend comments about Phil Goff's future as leader were more snarl than loyal support?
"He has to decide if New Zealanders see him as a future prime minister ... A prime minister has to lead. The question for Phil is whether he can step up to that."
By then, party president Andrew Little had said publicly he didn't want any of the top five on the list - all MPs defeated at the 2008 election - back in Parliament. His choice was the sixth on the list, Louisa Wall, selected as the party's Manurewa candidate. No doubt so she can spend the time, on an MPs salary, on the campaign trail.
Of course if Auckland Central's old MP does rise again, the central city electorate will be in the unique situation of having three MPs pushing its interests.
There's Nikki Kaye, the National MP who defeated Ms Tizard in the electorate contest, working out of her 86 College Hill office, and two doors up Jacinda Ardern, the Labour list MP "based in Auckland Central" who is contesting the electorate seat in November.
Whether Ms Ardern will offer her predecessor Ms Tizard desk space for her six-month stint, we'll see. But for Mayor Len Brown, who is looking for champions for his rail-loop project, it can't be all bad.
Of course Ms Tizard's claim to be consulting friends before making a decision is all very well. But it implies she'll listen, and I suspect her consultation is rather akin to the alcoholic who consults Mr Smirnoff or Mr Seager about the wisdom of having one more tipple.
My guess is she's had her bags packed ready to return to Parliament since election night 2008. For her, politics is an addiction.
She tells friends she's on the wagon, that she's dried out. But, as they say at AA, it's always one day at a time. And the sniff of a parliamentary swipe-card, laced with the rush of payback, seems to be a temptation too alluring to turn down.