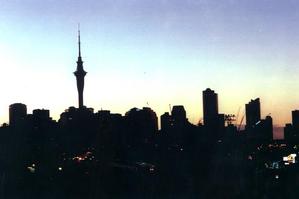 Before we fret and flail ourselves any further about our unpreparedness for Rugby World Cup 2011, perhaps it's time we took on board the message of the Economist Intelligence Unit's global liveability survey.
Out of 140 cities, Auckland is ranked No 10, with a rating of 95.7 out of 100. First was Vancouver, with a near-perfect 98.
That puts us well ahead of top tourist destinations such as Paris (16th place), Los Angeles (47), London (54) and New York (56). Wellington, oh dear, is down among the also-rans at No 23.
I mention our southern neighbours only because the outraged squawking was hard to ignore. Mayor Kerry Prendergast was so put out she is challenging her city's lowly ranking vis-a-vis Auckland.
What has really shocked her is that the survey dissed Wellington's pretensions of being culture capital of New Zealand, scoring Auckland ahead on this and most other categories surveyed.
"Big cities such as Auckland have more healthcare facilities and bigger pockets of cultural diversity because of their sizeable populations," she blustered away to the local Dominion Post.
Conveniently forgetting that it is Government-funded institutions such as Te Papa and the NZ Symphony Orchestra that artificially prop up the capital's culture, Ms Prendergast claimed "big cities" - meaning Auckland - "had become a focus for infrastructure investment because they had the most problems".
Intercity rivalry aside, both New Zealand cities are way ahead of Johannesburg, host to this year's soccer World Cup. It scores just 69.1 per cent and ranks 92nd.
Johannesburg struggles "with violent crime rates" says the report but "does enjoy strong availability of cultural and recreational activities, ensuring that visitors ... will have plenty to do".
If Johannesburg can score such a sanguine judgment, despite its obvious problems, it's surely a signal to us to stop trying so hard.
Instead of another round of scrapping over Eden Park facilities and how gold-plated Queens Wharf "party central" has to be, the message surely is to lighten up a little and concentrate on what's best for Auckland in the long term.
We're "in the very top tier of liveability" already. Visitors are going to really enjoy their stay at our place without us mortgaging ourselves to the hilt to fill the china cabinet with Royal Doulton they're never going to know they missed.
With plenty of warm beer and chips inside them and memories of their bungy leap off the harbour bridge, they're really not going to notice whether Queens Wharf has been made over or not.
Chances are, particularly if it's the one day in two at that time of year when it buckets down, the intended visitors to "party central" will have holed up in their hotels to watch the game, or in a Viaduct Basin eatery or in Aotea Square.
What is certain is that the $40 million shortfall in cost for Eden Park and the open-ended bill for the Government's Queens Wharf party facility are not part of any deal Auckland City ratepayers signed up to.
I say "Auckland City ratepayers" because there is a concerted effort by the Government and the other Auckland local authorities to try to shame this council alone into taking up the cost overruns others have incurred.
The Eden Park bill involves the cost of big screens and turnstiles and other essentials which will have to be paid for somehow. As the closest thing to a national stadium we're going to have, it seems only fair that the Government act as the underwriter for the money its appointees on the park boardfailed to raise.
It was, after all, both this and previous Governments that pushed so hard for this tournament and for the Eden Park rebuild.
As for the Queens Wharf "party central", that was strictly a vision of Prime Minister John Key. It has since become entangled with the new cruise ship terminal, so desired by the port company and its 100 per cent owner, the Auckland Regional Council.
Neither the party venue nor the terminal is vital for the success of the World Cup. We're already one of the world's top-10 "liveable" cities. People are still going to have great fun.
By rushing, we risk large amounts of public money, and worse - wrecking a one-in-a-hundred-years chance of a development worthy of this site. Let's save our money - and our wharf - until we get it right.